When it comes to presentations and animated videos one needs a bit of technical know how to deliver an impressive output, thankfully these days we have specialized software's to get the job done easily. One such utility is - Focusky, a simple to use but powerful Microsoft PowerPoint alternative to create stunning presentations & animated videos. It is easy for you to convert PPT into dynamic video with this business presentation tool. Moreover, it will help to deliver an awesome visual experience to the audiences.
Now, everyone can be a pro user of Focusky by getting three months Pro Plan (valuing $ 24.75) under an exclusive giveaway for our readers.

 To dynamically present your innovative ideas.
 To engage audiences with impressive contents.
 To make your key idea intuitive with zoom effect.
 To better promote your business with the distinctive presentation way.
For more about Focusky, visit this page.

1. Start from online template or new empty project
Focusky provides a series of online templates for users to start easily. If you want to use your distinctive templates, you can start from the new empty project and create your own unique template.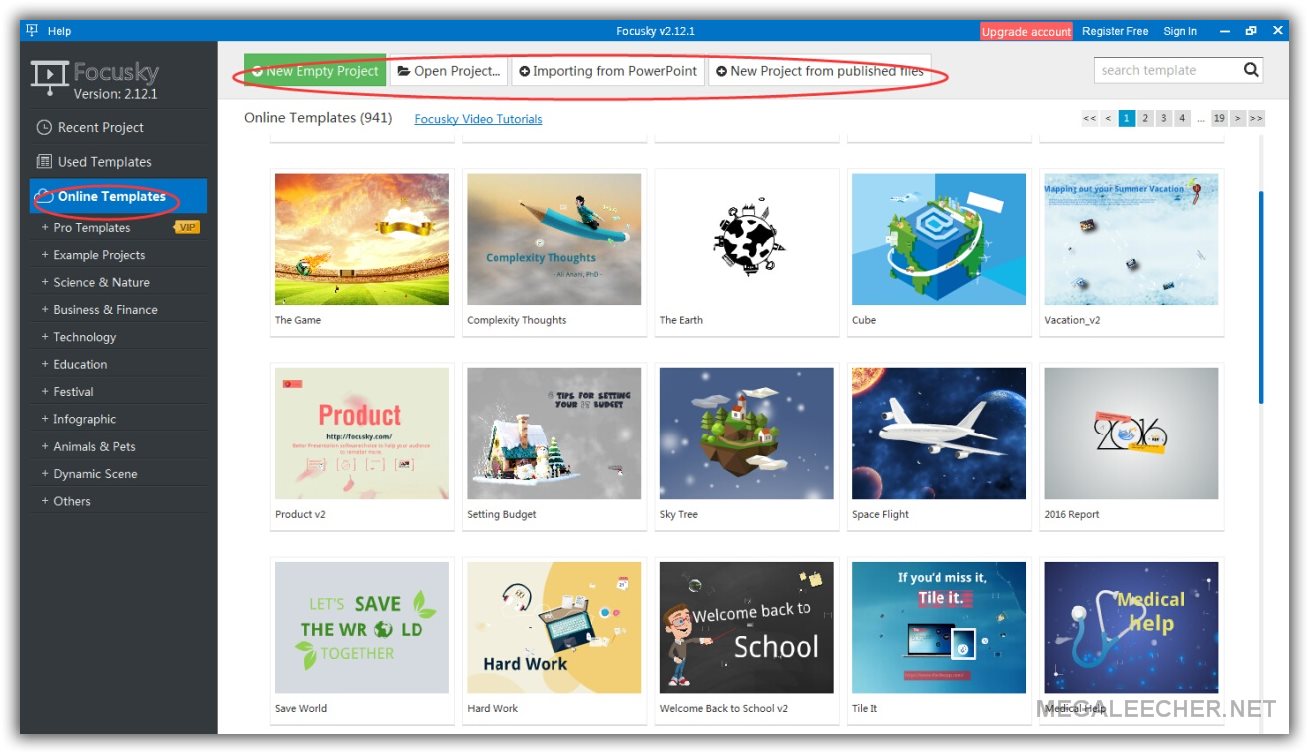 2. Choose the background for your presentation
In Focusky, it is easy to change the background. Focusky team prepared 3D backgrounds, image backgrounds, video backgrounds and background color for the users.
3. Edit the content with multimedia & vector resources.
To make the content intuitive, you are able to add videos, images, Smart Art, SWF, Chart and Roles etc. Also, for users' convenience, Focusky collects and sorts 5000+ vectors diagrams and icons to make the presentation vivid.
4. Customize animation effect
To make the presentation more impressive, you can apply 300+ animation effects to the text, pictures and shapes and so on. Besides, it is flexible to change the length of various animations, transition and repeats…
5. Preview and publish the presentation
There are several publish types for you to choose. You can choose the one you need and flexibly publish the presentation.
Focusky version 2.12.1 got released on April 20 and all Megaleecher.net users can get three months pro plan here: http://focusky.com/special-offer/3-months-pro-plan-giveaway-for-megaleecher.php. To activate the received codes, pls. visit : http://focusky.com/kb/how-to-activate-focusky-account-with-exchange-code.html .
This giveaway will end on