McAfee is one of the oldest and well-known anti-virus vendor and we had shared free McAfee promotions and here is another one leaked on internet, this one allows you to enjoy a full 3 user license valid for 12 months of genuine McAfee VirusScan Plus 2010 with SiteAdvisor.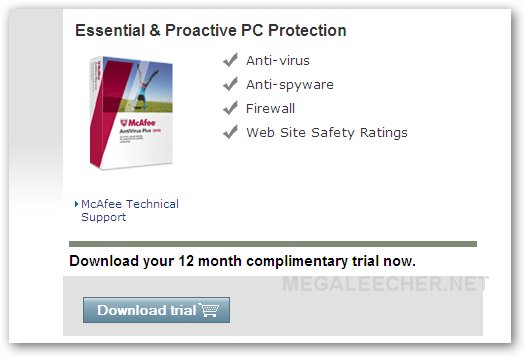 McAfee® VirusScan® Plus offers proactive PC security to prevent malicious attacks, so you can protect what you value as well as surf, search, and download files online with confidence. McAfee SiteAdvisor's web safety ratings help you avoid unsafe websites. This service also provides security against multi-pronged attacks by combining anti-virus, anti-spyware and firewall technologies. McAfee's security service continuously delivers the latest software so your protection is never out-of-date. You can now easily add and manage security for multiple PCs in your home. Moreover, improved performance allows it to protect, without disturbing you.
6-in-1 Prevention and Protection

* Safe Search, Safe Surf. McAfee® SiteAdvisor™ adds ratings to websites to help you avoid online dangers.
* Home License Subscription Service. Automatically delivers the latest software features and threat updates and lets you easily manage security subscriptions for all your PCs.
* Stops Viruses. Blocks and removes viruses and even stops them before they even get to your PC.
* Stops Hackers. Protects and conceals your computer from hackers.
* Blocks Spyware. Blocks spyware before it installs on your computer and removes existing spyware.
* Improves PC Health. Cleans clutter off your computer so it stays healthy and secure.

Additional Benefits

* Redesigned for You. Scan your computer, check for updates and configure your security settings using the new McAfee® SecurityCenter™. This easy-to-use "dashboard" gives you one-click access to your computer's security information.
* Always On, Always Protecting. 24/7 virus and threat protection from McAfee® Avert® Labs continuously monitors worldwide virus activities and provides rapid anti-virus protection and removal solutions.
* Always Upgrading, Always Updating. Daily updates are installed automatically. When new versions are available, you get them automatically at no charge, ensuring that you always have up-to-date protection.
* Convenient, Ongoing Protection. McAfee offers a variety of renewal options to keep your McAfee protection current.
* Real People, Real Help. Support from McAfee's computer security experts, via Internet chat, e-mail and phone.
To benefit from this offer simply visit the special promotional page here and follow the instructions to get your personal 12 months McAfee VirusScan Plus 2010 subscription license for free; hurry-up this could be pulled out anytime.