PaperBus the new ad-supported free web-browser proxy solution from the makers of commercial proxy service Freedur is pretty neat and easy to use, the service is fast and requires no registration - simply download the Windows/Mac/Linux PaperBus proxy-client utility and you are all set to surf the web anonymously from almost any web-browser bypassing internet censorship.
If the word ad-supported makes you fret there is no need to worry as no malicious adware/spyware is installed and the unobtrusive ads are displayed in a new browser (see image after jump) tab at the beginning of the each session and then again every 20 minutes as you use PaperBus to surf, Once PaperBus is shutdown no ads get displayed.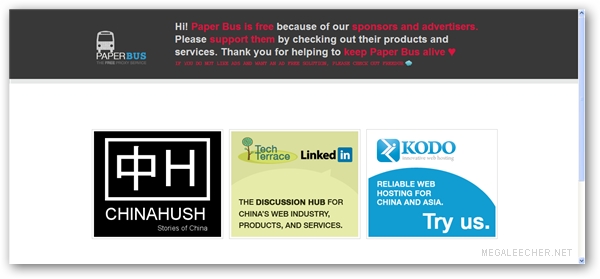 Another neat feature of PaperBus is that you can create a list of websites you don't want to surf via proxy.
If you are looking for a free, safe and reliable proxy solution PaperBus comes highly recommended, do give it a try - use the links below to download the proxy-client for your operating-system.
Sadly, this service is no-more available. Check-out alternatives at :
http://www.megaleecher.net/taxonomy/term/6760
http://www.megaleecher.net/taxonomy/term/6763