Having a MS-Office and PDF file-recovery utility in your software toolbox can come in extremely handy during an unfortunate data-loss event, and here is a chance to grab a fully-functional registered version of Wondershare Office Recovery software absolutely free till April 10, 2010.
Under a limited time promo you can grab a free personal keycode for Wondershare Office Recovery utility which is capable of recovering Microsoft Office 97, XP, 2000, 2003 ,2007 and PDF files from various storage devices like PC hard drive, external disk drive, USB flash disk, DVD and more lost due to deletion/formatting/virus attacks or any other reason.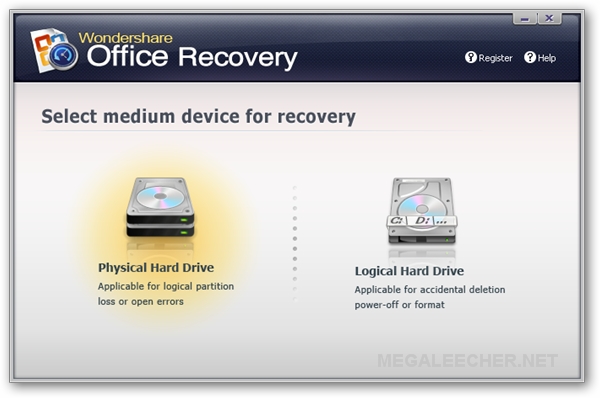 * Recover Word documents (.doc, .docx)
* Recover Excel spreadsheets (.xls, .xlsx)
* Recover PowerPoint presentations (.ppt, .pptx)
* Recover Outlook mailboxes (.pst)
* Recover Outlook Express mailboxes (.dbx)
* Recover Access databases (.dbx, .accdb)
* Recover Project files (.mpp)
* Recover Publisher publications (.pub)
* Recover OneNote files (.one)
* Recover Visio files (.vsd)
* Recover Infopath files (.xsn)
* Recover PDF documents (.pdf)

* Accidental or intentional deletion
* Formatting
* Virus attacks
* Misuse of partition tools
* Bad sectors
* Other unknown reasons

* Restore lost files faster than other similar software due to its high-speed search engine.
* Quickly scan and smoothly recover files from physical storage media even with a bit bad tracks.
* Automatically filter recovery results, saving your valuable time
* Store files with original directory if its parent directory has been detected, no need for classification
Download Wondershare Office Recovery 1.5.0 from here.
Visit the free keycode giveaway page and fill-in the details.

You should receive your personal keycode via email, use it to register your copy of Wondershare Office Recovery.