The latest experimental utility from Google Research's kitty is Google Tone. The Chrome extension enables users to broadcast and share URLs over audio signals. Google Tone uses your computer's microphone and speakers to exchange URLs with nearby computers connected to the Internet. Any computer, phone or Hangout conversation within earshot that also has the Google Tone extension installed and turned ON can receive a Google Tone notification making sharing url's effortless.
How Google Tone Works?
Tone works on a mechanism that is very much similar to human voice. This Google extension is very aptly named Tone as it has many attributes matching the human voice. For instance, it cannot pass through walls like radio frequencies or require an address or pairing to reach to the receiver. The click of a button produces a chirruping sound from your computer speakers, and this is what sends the URL to other devices that are in the sound hearing range. The chirruping sound is both a dual tone audio (DTMF) and ultra-sonic signal. This has been specially engineered to work reliably even at low volumes in short distances for many different types of audio environment.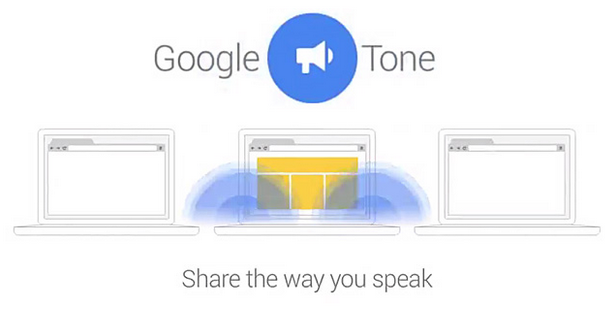 How Google Tone Came To Be?
Tone was born from the idea that though email and chat communication between people across the globe has become faster, cheaper and simpler, but sharing things with people right beside you has become equally complicated. The idea was to make sharing stuff digitally with people who are physically nearby as simpler as talking to them.
What You Need To Use Google Tone?
• For Google Tone to work, the extension is required to be installed in both the sender and receiver computers
• Both sender and receiver need to be signed in on Google
• Both the participants should have an active internet connection
• The participating devices should have good quality speakers and built-in microphones
• Location noise levels also play a crucial role for the Tone to function properly. There should not be any loud noise in the hearing range.
Where Can You Use Google Tone?
Tone can be used as an expedient collaboration tool by close groups of people located nearby with access to multiple devices. It can be handy in schools, colleges, professional institutions, corporate trainings & meetings, conferences and the like. Currently, Tone can only share links but you never know, it may evolve soon and start staring other stuff as well. This also comes handy for sharing links between your mobile phones and desktop.
What Are The Drawbacks Of Google Tone?
• Not friendly for exchange of confidential and sensitive information as Tone broadcasts are public and can be picked up by any device within the earshot
• Tone does not perform well in places with loud noises
• At times Tone does not catch the URL correctly
• Require a decent internet connection for Tone to function well
• Your device microphone has to be kept on at all the time for Tone to work. This may prove to be taxing on the battery
To sum up there is a lot of room for Tone to evolve. Once these glitches are dealt with and with more innovative stuff hooked up, you never know what waits you down the lane. There is no denying the fact that it has a lot of potential. Chances are this may turn out to be the next big thing in the world of technology. For now, all we can do is just wait and watch!