Largest external hard drive backup might be a cunning thing. On the one hand it entices you with the superlative degree: l a r g e s t! If there is hard drive to offer enough space for backing up ALL the valuable data you have (plus videos of kitties doing tricks), it is most surely the largest one.
But just like a butterfly attracted by the light of a candle, you might find issues with possessing the object of your desire as you go after backup to the external hard drive. Let's see how Handy Backup, probably the most powerful backup utility, can help us to deal with the largest hard drive. The good news is that we are giving away EXCLUSIVE FREE ACTIVATION KEYS for powerful backup solution "Handy Backup Pro" to our blog readers, read on for details.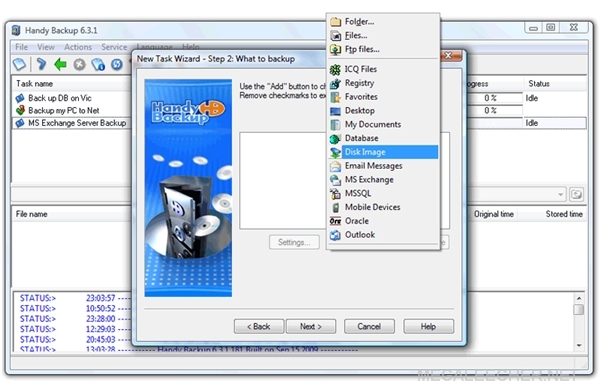 When it comes to backups, the first thing to manage in view of the largest hard drive backup is (what would you think?) to get the largest hard drive. Which one is the largest by the way? Currently, 3TB is a popular choice, and even roomy devices are available. Just remember that one or two sizes smaller than the largest drive that's currently available is usually the sweet spot in the price range.
But who needs the common sense if the piggy bank has enough coins and one wants to be the Kung Fu Master of personal data storage? Suppose we got the largest drive; time to consider software for backup to external hard drives.
…Or not? Before using backup software, it makes sense to get your hard drive operating. The grim reality fact is that it might be a problem to make your PC see something bigger than 2.2TB the right way. The thing is that Microsoft is not so optimistic about you using storages larger than 2.2TB in its 32-bit consumer operating systems (including Windows 7). In fact they are that not-so-optimistic about 'monster' storages that the support of >2.2TB is also excluded from the 64-bit XP. Even if you manage to work the problem out somehow, it is highly probable that the storage will be like 2.2TB plus additional capacity (say, 800GB for a 3TB drive), the two volumes instead of a single drive.
But there is no such thing Microsoft can screw so badly it can't be crutched, the commonly known wisdom of masses says. Fortunately, there are drivers and utilities that help to use gigantic hard drives as an additional storage with Windows, from XP to later editions. So, suppose we got the object of our passion, the lovely largest hard drive, operating properly.
What does a neat program should be like to manage the largest hard drive backup respectfully? That's what Handy Backup offers:
+ Everything backup
So, you want your backup software to store EVERYTHING on the largest hard drive? Let it be everything! Files, folders, disk images, applications (oh, the precious nerve saving Outlook backup), system settings, MS Exchange, MS SQL, Lotus Notes, other ODBC-compatible databases, your favorite type of data. Handy Backup's powerful functionality expandable up to eternity with the plug-ins backs up everything you need.
+ Variety of supported media
Want to back up data FROM your largest external hard drive? Well, that could take lots of media. Backup to DVD, Blu-ray, USB drives, and other popular carriers are readily supported by Handy Backup. Back up to FTP and SFTP? Not a problem.
+ Spanning
So, you transfer data from the largest external hard drive to the variety of supported media? Isn't the data from the largest drive going to be bulky for storing on less capacious carriers? Not with Handy Backup and its' spanning talent. Separate the backups into parts easily and get them gained together when you need them. Backup software to DVD has never been friendlier.
+ Online backup cloud storage
Care about security of your backup data? Keep it on a protected remote server in an underground data center, with the Online Backup cloud storage option by Handy Backup. And yes, there is enough space there to store the entire largest drive.
+ Ultimate automation
The largest hard drive longs for plenty of data. And plenty of data is plenty of efforts to properly manage it. This is a formula no more actual with Handy Backup, as all the backup tasks are easily schedulable. Set it once and let the software do the dull job (it will be happy to).
+ Powerful network backup
Your largest external hard drives are in a network? Great! Handy Backup is the right server backup software to fit your backup needs as there are centralized 'one-man' control of network backup, backup of MS Exchange, invisible for workstation backup in the Windows service mode, and other smart backup options.
Hope this brief overview helped you to get some enthusiasm about considering handy software and pointed out tips to accomplish the backup mission gorgeously. Because gorgeously is exactly how the largest hard drive deserves it.
P.S.: By the way, careful users may discover that the volume size of the largest external hard drive is not the same to what the manufacturers impose to be the nominal capacity. The reason is the difference in the ways your computer and those manufacturers see what the volume size is.
Manufacturers: 1.2TB = 1,200GB = 1,200,000MB = 1,200,000,000KB = 1,200,000,000,000byte
Computer: 1,200,000,000,000byte/1024 = 1,171,875,000KB/1024 = 1,144,400.91796875MB = 1,140GB = 1.14TB.
The difference something like 5%-10% is common and shouldn't worry you thus.
Backups are a must for every computer user dealing with important data - be it files, music, videos or images. Luckily our blog readers have a chance to win a free copy of total 20 free licenses of "Handy Backup Pro", to participate just leave a comment below telling "how you plan to use this backup solution ?" - dont forget to leave your valid email address in "email" filed to receive the activation key.