If you are an iPhone user, you will not think twice before agreeing to the fact that there is simply an innumerable amount of files that can be accessed illegally through various means. There is unfortunately a variety of software that can be used to even access the data that you have deleted. Not to mention the fact that even your passwords and other sensitive information like photos, messages, videos, contacts, safari history, etc, can be leaked. So what do you do?
Well, the answer is to completely and permanently remove files that are useless or you don't want the files be seen by others, so as to keep your privacy intact. Therefore, you can use iMyFone Umate Pro, one effective tool to delete files thoroughly. The removed files can never be recovered.
Why you need iMyFone Umate Pro to protect your iPhone privacy?
iMyFone Umate Pro can be considered a relief pill for those who have been victims of privacy breaches. It can work as an iPhone cleaner to reclaim space for your iPhone by wiping out junks, app cache, hidden temporary files, compress photos without quality to save more space.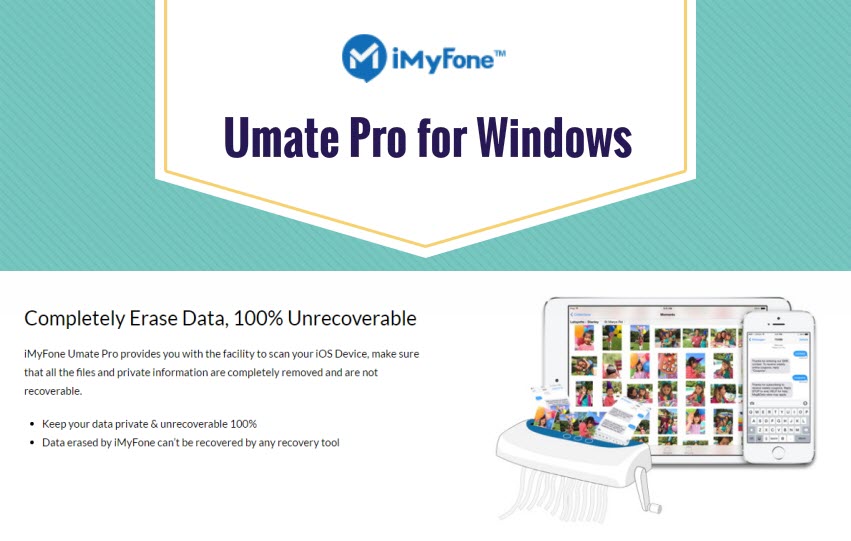 Moreover, it can be your iPhone eraser to erase any existing or deleted data from your iPhone, like photos, videos, contacts, call history, WhatsApp messages, password, voice memo, safari history, etc. All your private data erased by this software has no chance to recover.
This section will explain each feature of iMyFone Umate Pro and list the steps of how to use them.
This is a very useful function of the software as it allows you to delete those categories of files that are completely redundant and have no use at all. Such files may include junk files, temporary files, app caches etc. You can also compress large files such as photos and videos using this feature. In order to increase space, follow the steps mentioned below:
Connect your device to the computer and launch iMyFone Umate Pro.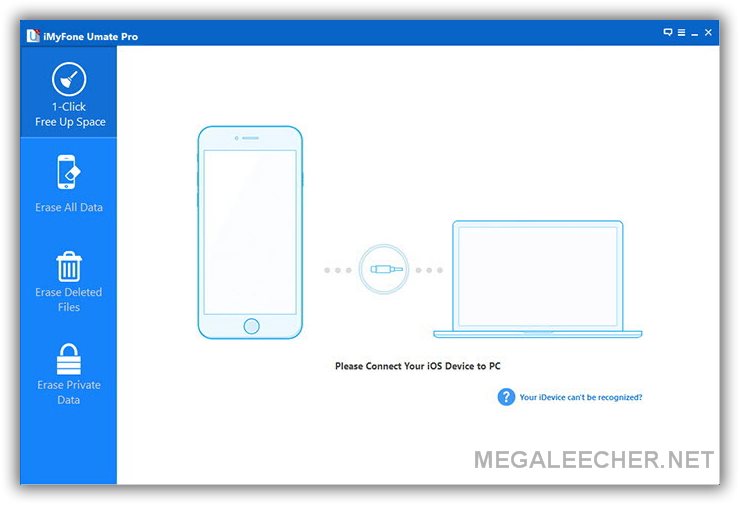 Select "1-Click Free Up Space" option and then you can either select quick scan to filter out all the unnecessary categories of files or simply select one of the categories listed below and delete the files belonging to that category alone.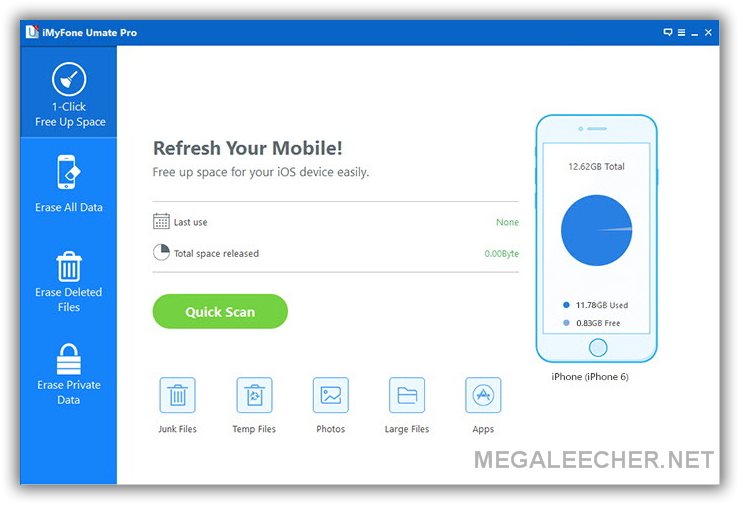 If you select "Quick Scan", the software will scan the files and display them in order for you to delete them. Click "Clean" to remove the files that you want to.
Once you are done, the software will show you how much further you can increase space by deleting certain types of files.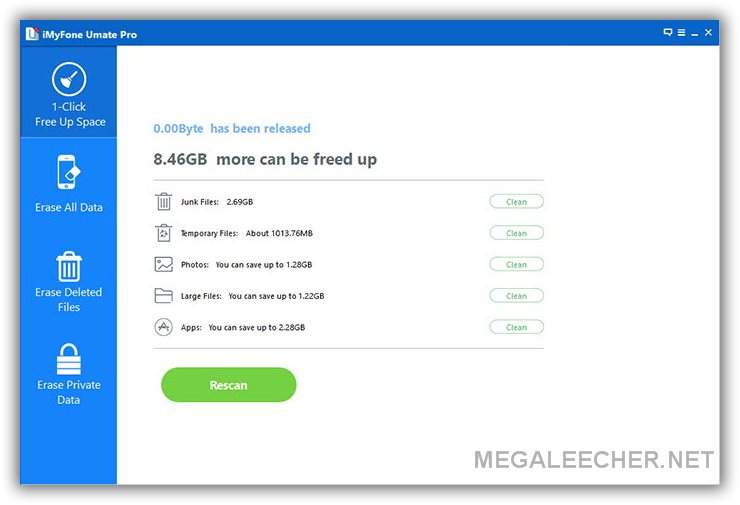 Erase All Data : This mode is quite simple and the name explains it all. The option will completely wipe your iPhone and make it seem as if it were brand new.
Erase Deleted Files : Various data recovery software can be used to recover files that you normally delete. This means that the conventional way of deleting files is risky and may result in having your files ending up in the wrong hands. The "Erase Deleted Files" allows you to completely overwrite such deleted files thus making them 100% unrecoverable. The following steps will show you how you can do this.
Erase Private Data : It is very important to make sure that you remove your private files if you are planning to sell your iPhone. The "Erase Private Data" option lets you do exactly the same by allowing you to preview and individually selecting files that you think are private and delete them. Follow the simple steps mentioned below to remove private data.
I will tell you how to erase deleted files on your iPhone with this software.
Click the "Erase Deleted Files" option and click "Scan".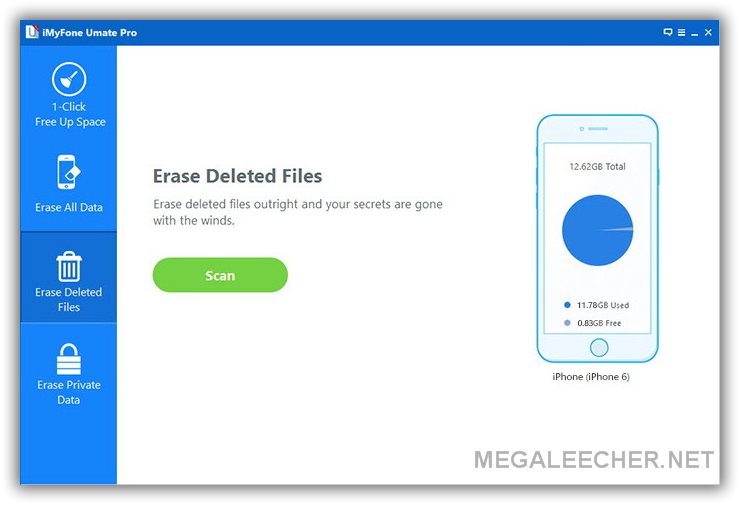 Once the software scans all the deleted files, it will display them on screen for you to preview and select the ones you want to remove. Select the files that you want to delete and "Erase Now".
Type in "Delete" to confirm that you agree to erase those files and again click "Erase Now".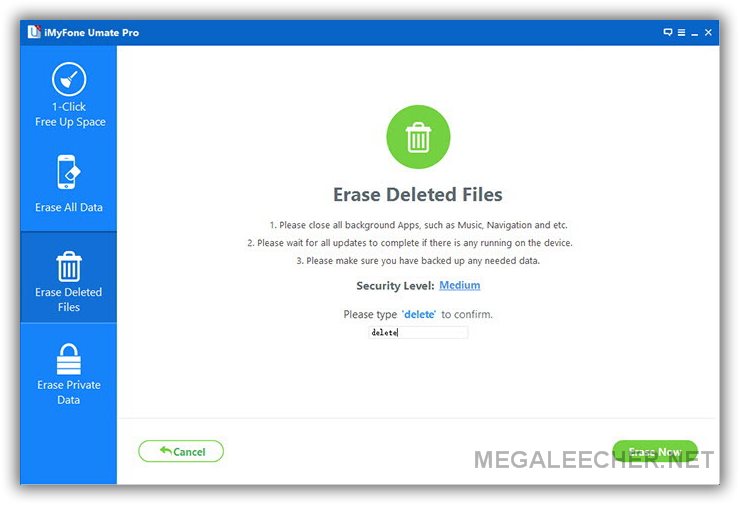 iMyFone Umate Pro is a powerful to clean your iPhone to reclaim much more space, and the best tool to protect your privacy from being leaked. The software is very popular. It has been reviewed by many famous publications around the world, including MakeUseof, MacWorld, CultofMac, iPhoneLife, etc.