idoo Video Cutter supports Windows XP/7/8/9 and other PC platforms. The biggest feature is its powerful format conversion functionality in addition to the cutter. In terms of format conversion functionality, it has the power of professional format conversion software, supporting most formats. Another feature is that it has three subroutines, and completely fits the real needs of users, solving a variety of problems encountered by users.
Firstly ,we will look at the software interface, then we will start idoo Video Cutter, see three subroutines (functionality):"Advanced Cutter"、"Batch Cutter"、and "Easy cutter",as shown below:
When you start "Advanced Cutter",there is basically no time-lag, as shown below: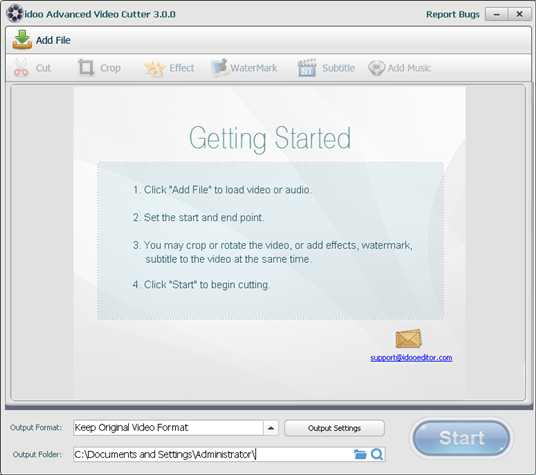 The style of the software interface is clear and simple, with rational layout and full functionality.
Advantages of "Advanced Cutter" mode:
Simultaneous cutting and playing and previewing
Advanced editing, for instance: Subtitle/Effect/Crop/Add Music/Watermark/ etc.
Advantages of "Easy cutter" mode:
Simultaneous editing and cutting for multiple pre-cut fragments.
Easy to operate.
The "Batch Cutter" has the ability to "apply to all" functionality and settings of a video cutter, which is very convenient.
Format conversion function : "Advanced Cutter"simultaneous cutting and converting , selecting different specific formats according to different categories. The equipment category supports most equipment formats. For each formats, there are detailed options for specific equipment or specific parameters. "Show more settings"shows more details than the preset configuration. The functionality of the format conversion is powerful, and easy to operate with a strong friendly interface.
The time required to cut and format a conversion is very little, the files are converted without loss of quality , or high definition, the converted files play smoothly on mainstream media players, with no blue screen or error.
Reasonably small installation file, only 14.6 MB.
Programs and subroutines cold start time is very short.
Short time to import video and audio.
Cutter is precise to 0.001 seconds.
There is no blue screen when dragging the progress bar.
Minimal steps required to complete the cutting operation.

Say we downloaded a movie in m2ts format. How to cut the sections we need , remove the black bars, then play it on iphone5s?"
Start "Advanced Cutter", import a video, and select the start time of cutter, as shown below:

Start Crop interface,select a region needed to intercept, as shown below:

Start "Output Format",select the format you want to convert, as shown below:

Click "Start"to start the edit and to get the results we need, as shown below:

Using the above operation, we get the video without black bars playing on the iphone5s.Users of iPhone6 and 6Plus can get full support with our latest version.

20537-36705-21846-37470-54277-97243