My last post was about how to download music files from eSnips, Now I will be sharing a nifty little utility which will let you download music files from almost all major social sites like eSnips, iJigg, IMEEM, Last.fm, Mog, Pandora and MySpace to name a few.
FreeMusicZilla is a smart software which lets you snatch and download streaming music files from IE, Firefox, Opera, Maxthon, Avant and Netscape, all you have to do is to launch "FreeMusicZilla" and start listening to your music in your preferred browser, the playing music file link will be sniffed by FreeMusicZilla - now simply select the grabbed file name and click the 'Download' button to start downloading.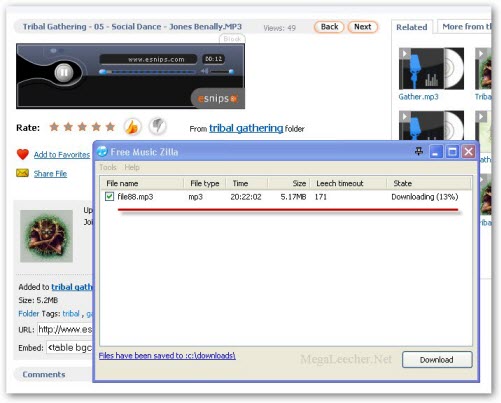 While testing the software on eSnips, I found that if the browser window is closed the download aborts, moreover the free version of the software only allows 10 downloads in a day, However, this limit can be bypassed easily
by closing the software and changing the computer date back or forward before re-launching FreeMusicZilla.

OrbitDownloader is another great free software to grab and download streaming music and video files from almost all services out their, OrbitDownloader's Grab++ module will sniff any audio, video, or flash file being played in your browser letting you download it with ease.