Apple iPod Firmware 3.1 is out now and available for download, the major update to the core operating-system features some pretty exciting improvements like ability to manage your iPod Touch applications icons and screens via iTunes 9, the update is free for all iPhone and iPod Touch users iPod Touch users currently having any firmware version older then 3.0 - they are required to pay an upgrade fee of $4.95 to get this latest OS upgrade and will get prompted by this screen when accessing iTunes.
Luckily, as previously done we can bypass this paid upgrade and get the latest iPhone OS 3.1 onto our devices using iTunes and iPod restore files as demonstrated next.
To get this done we will be using the same old .IPSW restore trick we used to bypass the $9.95 upgrade from iPod OS 1.X to iPod OS 2.X earlier, here is the detailed illustrated step-by-step process to get this done for iPod OS 3.1:
Identify your iPod Touch generation using instructions provided here, download and save corresponding 3.1 IPSW restore file from links provided below:
Upgrade your iTunes to latest version.
Launch iTunes and you should be prompted to upgrade your device, simply scroll to bottom of page and click Remind Me Later.
You will be shown screen as below, Now hold down Shift button on keyboard and click the Restore button in iTunes.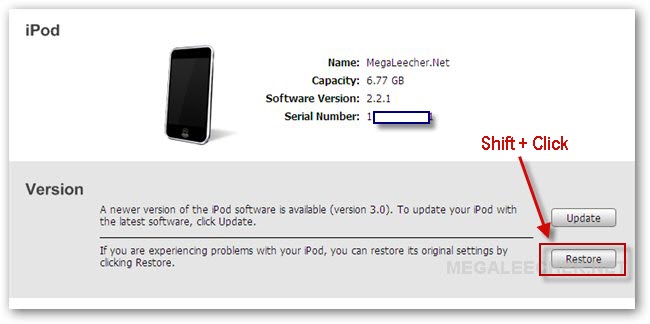 Browse and select the .IPSW firmware file downloaded in Step 1.
iTunes will confirm the action click Restore button to start the process.

Sit back and let iTunes upgrade your device Operating-system.

Once done your iPod will reboot automatically.
Now, check iTunes or iPod and your device is now upgraded to latest iPod OS 3.1 without paying anything.
You can now use iTunes 9 to enjoy new features like app. icon management.
This process will erase all data from your device and you will also loose the jailbreak until iPhone Dev Team's comes with an update to PwnageTool making it compatible for jailbreaking iPod OS 3.1.