Unlike iPod Touch First Generation jailbreaking the newer iPod Touch Second Generation requires a different approach as QuickPWN currently does not support iPod Touch 2G, luckily iPod 2G is now jailbreakable and QuickFreedom is a new utility which can get the job done pretty easily via a simple to use wizard styled user interface, QuickFreedom works on Windows XP and Vista allowing users to jailbreak and install Cydia and Installer with options to change the boot logo.

QuickFreedom supports jailbreaking the latest iPod Touch 2G with 2.2.1 firmware, the 5-step jailbreaking process is quite simple and can be done easily as described next.
You will require these software and files for jailbreaking.
Make sure your iPod has firmware 2.2.1 installed as shown below in iTunes, if not hold the Shift button on keyboard and click the Restore option in iTunes, now browse for iPod2,1_2.2.1_5H11a_Restore.ipsw file downloaded earlier and let iTunes finish the restore.
Launch QuickFreedom and click the Jailbreak iPod button.
Install LibUSB and browse for the IPSW file downloaded earlier.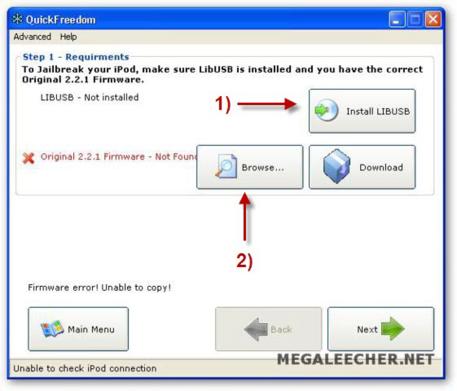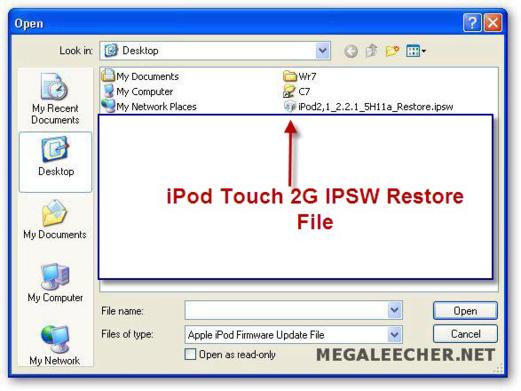 Both jailbreak requirements should now show green checkmark click Next to continue.
From the next screen check Installer and change boot logo options as per your choice, Cydia gets installed by default, Click Create Firmware to start the custom IPSW file creation process.
Let the process complete, if the IPSW creation process takes more then 30-40 minutes try disconnecting the iPod and start again (I am not sure about this but disconnecting iPod while firmware creation process somehow worked for me).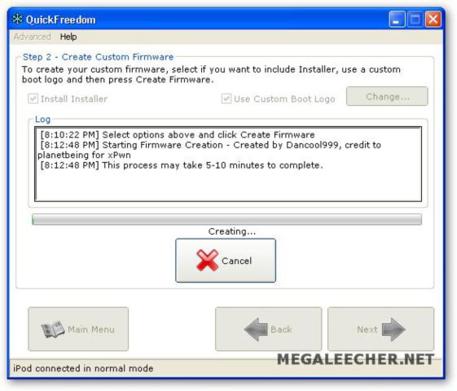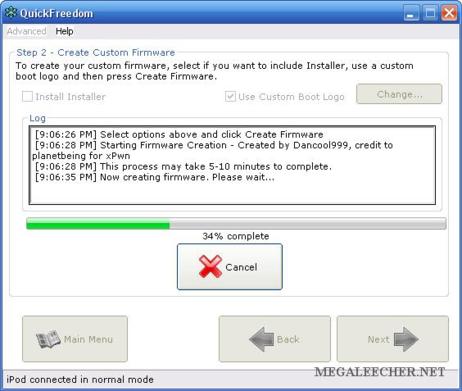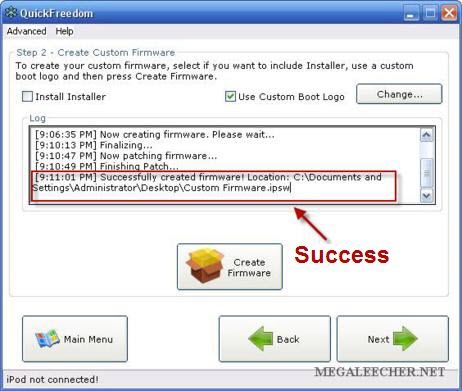 After successful firmware creation click the next button, your iPod should now be shown as connected in Normal mode as shown below.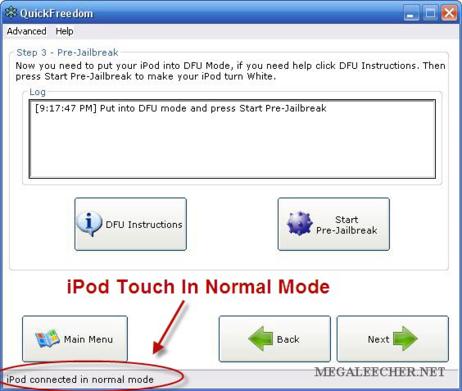 You need to get your iPod Touch in DFU mode click the DFU Instructions option in QuickFreedom or follow the guide below.
Turn-off your iPod.
Hold Power + Home button.
Release the Power button but keep holding Home until the computers beeps recognizing the USB device.
If you are having trouble getting into DFU mode view this video.
Once in DFU mode QuickFreedom should display the correct status, do note that recovery mode is not DFU mode and if you are in recovery mode you need to repeat above steps to get into correct DFU mode as shown below.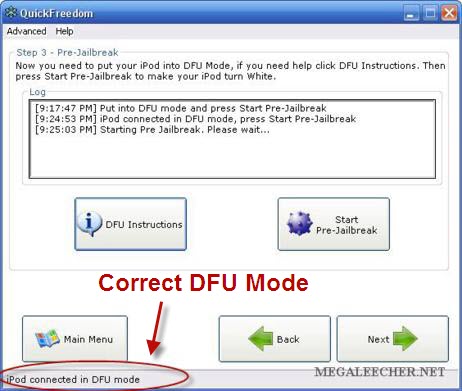 Once in DFU mode click the Start Pre-Jailbreak button to start the patching process.
Once completed you will be shown this message.

QuickFreedom now instructs you to restore the custom firmware created on desktop in step 7 above from iTunes.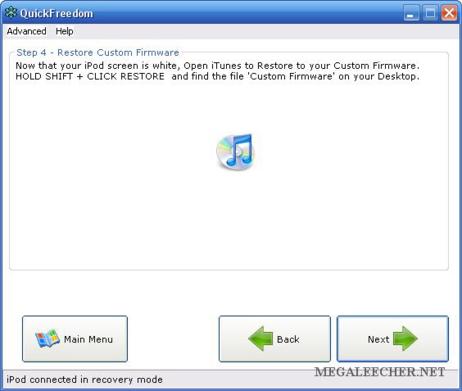 Close QuickFreedom and launch iTunes it should find the iPod Touch in recovery mode.

Click and hold the Shift keyboard button and click Restore in iTunes
Browse for the Custom IPSW firmware file on desktop and let iTunes finish the restore.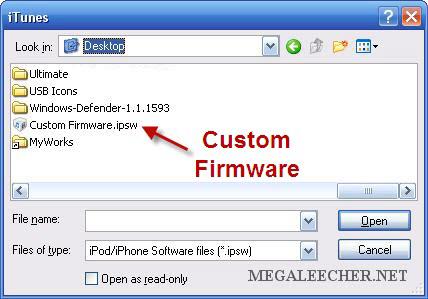 Once automatically rebooted by iTunes you will have jailbroken iPod Touch 2G with Cydia installed.