MacX Video Converter Pro is your all-in-one video converter for Mac that allows you to download, edit, convert, and record screen videos. Once used, it will become your favorite for all the needs of downloading videos and music from over 300 websites. The convertor also allows you to convert YouTube videos into MP4 and MP3 files for offline play. What else will anybody ask for!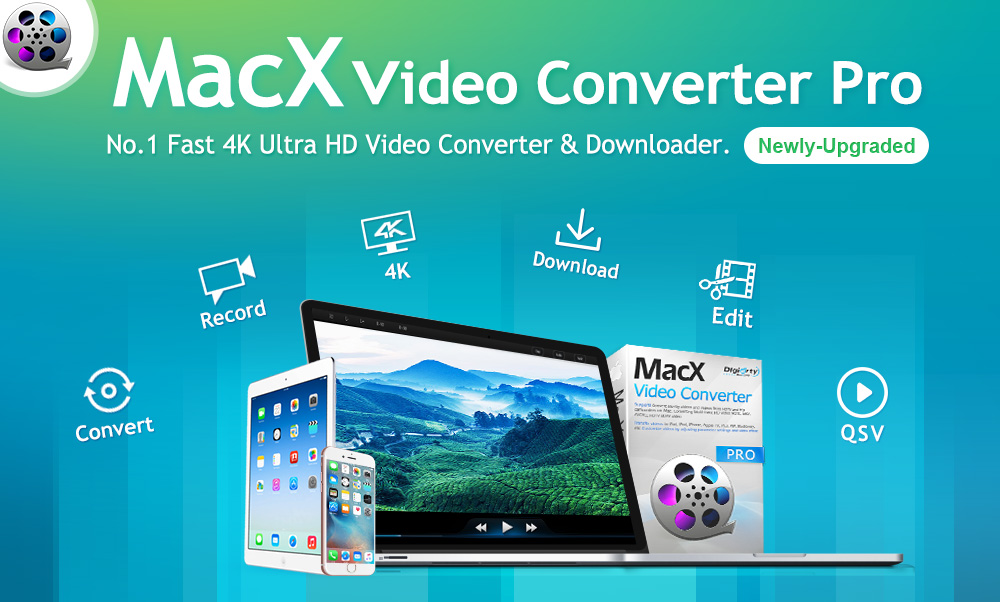 People who have great interest in watching videos over and over again are surely going to love the convertor as it has got to offer so much to you. It is known to be the fastest video converter that is capable of preparing multimedia files for instant offline playback in any format that your device can support.
With MacX Video Converter Pro in your hands, you get a complete control on the 4K UHD, SD and HD videos of your choice. There are over 50+ audio and 320+ video codecs, you get the liberty to convert your favorite videos from/to MKV, HEVC/H.265, MP4, MKV, M4V, MKV, AVCHD, AVI, M2TS, WMV, VOB, and others of your choice.
You can enjoy your converted videos in QuickTime and iTunes. Other important features of the MacX Video Converter Pro include:
1. Editing in Final Cut Pro and iMovie,
2. Sharing on YouTube and Facebook,
3. Playing on the latest iPad Pro/Air 2, iPhone X/8/7/6S/6 (Plus) and Android smartphones like Samsung Galaxy S8/Note 8, Huawei, WP8, PS4 etc.
MacX Video Converter Pro happens to be the first video converter that supports Intel QSV hardware acceleration technology. It greatly accelerates the video conversion speed up to 16 times faster than ever. It assures no quality loss to the converted video. Other features include recording and capturing screen video, making photo slideshow and others.
It is known to be the first Mac video converter in the world that supports Intel QSV acceleration technology, along with the options like hyper-threading Auto Copy mode, and multi-core CPU utility. It is believed to be 5X faster than most of its competitors. It can provide you with over 350 preset profiles for Apple and Android devices that generally include iPhone X/8/8 Plus, Galaxy S8/Note 8, and others.
It has been built in over 370 video and audio codecs including H.265/HEVC, 4K UHD, MPEG4, M2TS, MKV, MTS, AVI, VOB, MOV, WMV, MP3, etc. You make your choice out of these as per your requirements. MacX Video Converter Pro delivers the users with untouched video quality, just because of its high-quality engine and Deinterlacing technology that its competitors fail to have. Talking about functionality, the h.265 converter offers support to downloading 4K, 8K, movies, 1080p HD videos, TV shows, etc.
When it is about features, mac video converter has got to offer you the following features that are almost unmatchable for any other 4k video converter and downloaders. Here are some of the important features of the MacX Video Converter Pro that are worth-knowing:

a. Conversion of 4K UHD recordings on Mac
a.i. Demand of popular 4K video
It lets you regularly transfer to or download from YouTube, Facebook, Vimeo, and similar others, videos recorded by iPhone 6 or later, GoPro, HD camcorder, and bolstered by 4K UHD TV sets.
a.ii. 4K Video Experts
The convertor has got to offer you more honed and plain video picture quality and is exceptionally popular among the video streaming websites.
a.iii. Compressing Videos
It is capable of compressing 4K video files for a quicker backup, streaming, transfer, or upload.
a.iv. Convert files for Apple devices
It can easily convert 4K videos in MKV and M2TS format to Apple devices supported formats.
a.v. If you can play or edit your 4K videos with any other software, it helps you in converting them to MOV, MP4, WMV, and AVI so that you can easily play and download your videos.
a.vi. It lets you play 1080p video even on 4k devices by up-scaling the 1080P videos to 4K for playing on a 4K supported device or upload it to YouTube.
b. Uniqueness
The MacX Video Converter Pro offers you fastest conversion speed of any format of the video to any format of the video. Its fast conversion is supported by the exclusive Intel QSV technology and H.264 auto copy technology. With this mac video converter, you can easily convert an MKV video (for example H.264+ac-3, 1920x1080, 02:07:22) to MP4 in just 15 minutes. It is said to be 6 times faster than its competitor HandBrake and 10 times faster in its auto copy mode than being in its normal conversion mode.
c. Conversion of Video Codec to H.265/HEVC
The fastest video converter allows you to convert video codecs like DivX, H264, VP9, etc to H.265/HEVC to make the videos perfectly compatible with the devices like iPad, iPhone, Mac that support iOS 11 and macOS Sierra. You can even compress nearly 50% video size with its original quality.

a. Conversion of HD/SD/4K/2K Video on Mac
The MacX Video Converter Pro is known to be built in over 50 audio and 320 video codecs with the help of which, you are allowed to convert HD and SD videos (like MTS, M2TS, MKV, AVCHD, and more from camcorders) and even 8K/4K/2K videos out of over 180 formats on Mac, such as MKV to MP4, MOV to MP4, WMV to MOV to allow editing on Final Cut Pro, iMovie, or playback on Apple TV, iTunes, iPad, iPhone, Android, Kindle, Windows Phone, and other such devices.
b. Downloading YouTube Videos on Mac
The h.265 converter lets you download 4K, HD, Blu-ray movies and 3D videos, from YouTube and other more than 300 video-sharing sites like Yahoo, Facebook, Dailymotion, etc. and even allows you to convert the downloaded videos to AAC, MP3, WMV, MP4, etc. for offline playback on your mobile devices.
c. Editing Video, Add Watermark, Subtitle, Make Slideshow
This happening mac video converter lets you merge, trim, and crop video clips and recordings. You can clip videos for your favorite segment, crop the frame size to remove anything like the black bars and merge other separate videos into one video. You are even allowed to add watermark to customize your videos. The other options that you get include the MKV inner subtitle, insertion of Blu-ray, and downloading the ASS/SRT subtitles to your videos. You can even create photo slideshow with added background music of your choice.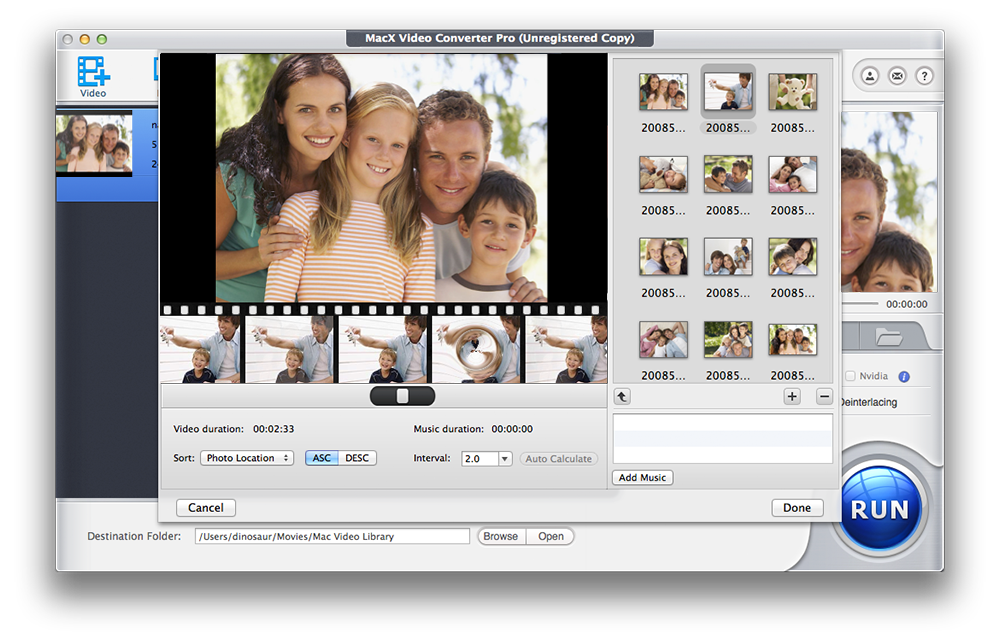 The MacX Video Converter Pro is world's fastest video convertor that has got to offer you so many unique feature that you don't get from any other video convertor.