Today seems to be a lucky day, after posting our exclusive EASEUS Data Recovery Wizard V 5.0.1 giveaway I just found another cool giveaway from O&O Software's throwing away unlimited registrations of their O&O Defrag Professional 11, Unerase 2, CleverCache 6 Pro, Safe Erase 2 and DriveLED products, this is a limited time promo so hurry up details after the jump.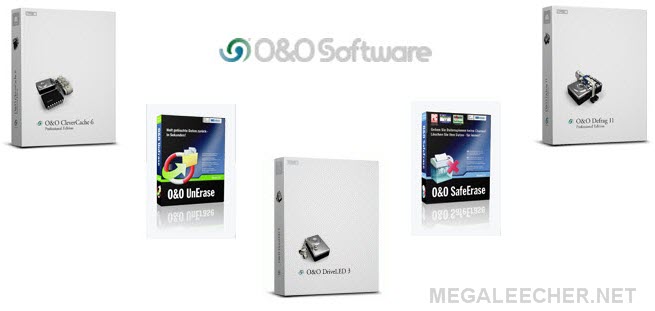 O&O Defrag Professional 11 - Unleash the hidden performance of your computer with the minimum effort. O&O Defrag 11 Professional Edition packs file fragments quickly and securely back together to optimize your hard disk under Windows. Its functionality ranges from a fully automated defragmentation to an individual professional set up. It can do everything a truly good defragmentation software should be able to do.

The new background monitoring function helps to prevent fragmentation at source. Newly added and modified files are analyzed and defragmented whenever they are not being accessed. O&O Defrag makes sure that your hard disk is constantly performing at its peak.

O&O CleverCache 6 Pro - O&O CleverCache 6 Professional is a unique tool that optimizes the File Cache Management for Windows Vista, NT, 2000 and Windows XP. This results in an enormous increase in performance boosting a system's performance at times to up to twice its original speed. All this is achieved without the need for additional hardware or any reduction in your system's stability. You simply install O&O CleverCache 6 and you're ready to go – no need to reboot. It automatically recognizes your configuration, and within 5 minutes you can unlock the hidden resources on your Windows system! The more the file cache grows, the less memory is available for running applications. The result is a significant decrease in performance as requests for memory lead to the so-called "swapping" of memory. This occurs when unused memory segments are paged out to the hard disk's paging file. Because hard disk access is slow relative to Memory, loss of performance is inevitable. O&O CleverCache 6.0 Professional Edition is optimized to meet the day-to-day needs of individual users. The software is optimized to run on Windows NT4 Workstation, Windows 2000 Professional, Windows XP Home Edition, Windows Vista and Windows XP Professional.
O&O Unerase 2 - O&O UnErase V2 makes the restoration of deleted data as easy as "a walk in the park". With the help of a new and one-of-a-kind algorithm, more files can be restored than ever before. Within a matter of seconds, O&O UnErase finds your deleted files and restores them with just the click of a button. The original filename and directory structure are also restored as if nothing had been deleted in the first place.
O&O Safe Erase 2 - O&O SafeErase V2.0 is THE solution for the secure deletion of sensitive data from your hard disk and offers you the ultimate protection of your private sphere. With just one click of the mouse you can securely and permanently delete files, folders and partitions.

The motives for the deletion of files are many. Old e-mail files, internet history, file cache, financial records, company information, and private files ought to be protected from other's access. The reality, however, is much to the contrary. O&O SafeErase puts a stop to this by not only deleting files, but by annihilating them with the help of recognized and recommended methods. In Windows XP, Windows 2003, Windows 2000, and Windows NT, O&O SafeErase will protect your computer from the unpermissive access of others to your alleged deleted files.

O&O DriveLED - No other single part of the modern computer system is more susceptible to malfunction than the hard disk. In fact, such a malfunction can come without warning and is often unavoidable. With O&O DriveLED 3, however, you now have the ability to recognize a potential malfunction before it happens. O&O DriveLED 3 is a partner you can depend on: accurately telling you when it's time to backup your important data with O&O DiskImage, or even replace the hard disk entirely. Just one license, and all the hard disks on your computer will remain under constant observation.
Simply visit the links provided above and fill-out the forms with a valid email address to receive your free registration code.