Now, whether you believe it or not, handling documentation is the number one burden for every single office. This seems to be one of the most challenging things to automate and as such, it brings quite a lot of hassle.
This is the main reason for which we've decided to take the liberty of introducing you to one of the most appropriate and convenient solutions available on the market – PDFelement by Wondershare. This is a solution which brings a definitive wealth of different features for a fraction of the actual cost that the branded alternatives demand.
As we reviewed earlier, PDFelement 6 is the latest version of the software and it manages to integrate particularly cutting-edge technology in a design which is user friendly and convenient. This is something particularly appropriate and to be considered. The product comes with a unified Office inspired outlook on both Windows and Mac devices. It's quick and it allows easy and comprehensive text editing.
How it works?
The first thing that you need to do is to load the completed identical forms as well as the extracts into a sheet on Excel. The same goes for scanned papers – you can easily extract the information to an Excel sheet. This is most likely going to reduce the amount of time that you spend on handling documents by as much as 90%. This is definitely something that you want to take into account.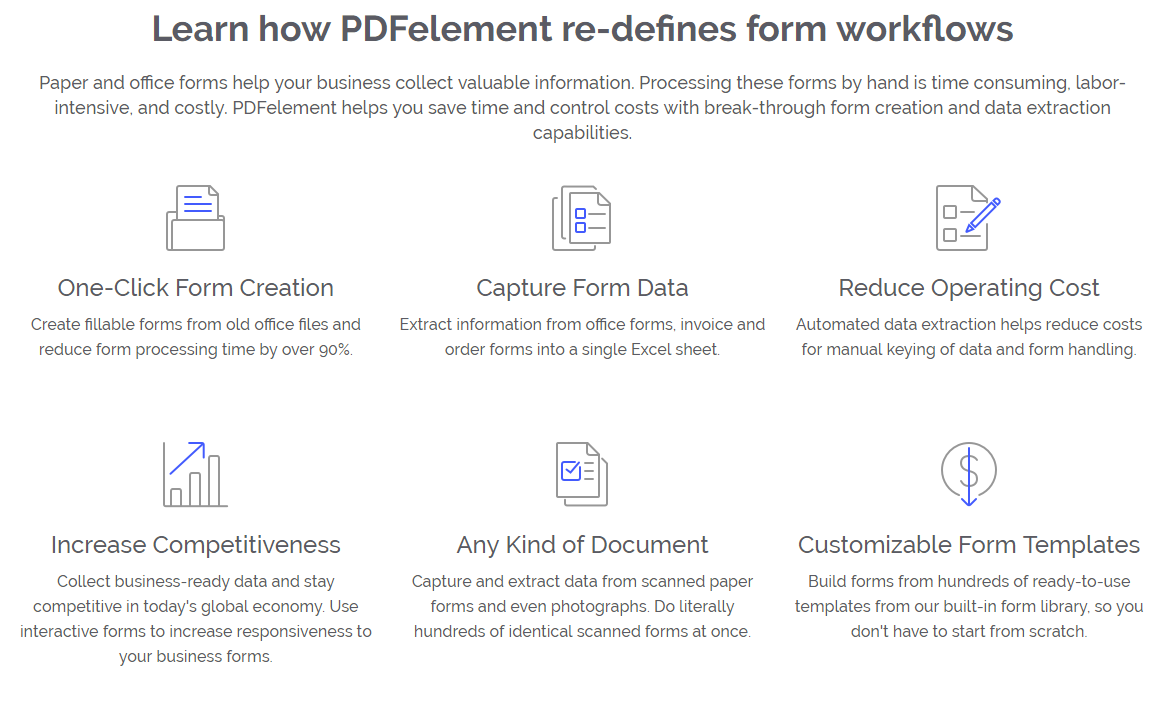 1. You can create PDF Forms which are fillable : Now, this is something absolutely critical when it comes to the overall automation of the documentation handling in the office. You would be able to create non-fillable form documents from any Word, Excel as well as other Office applications. They would be editable and easily adjusted with just a click of the button.
2. Export form Data into Excel : Not that you are not capable of doing so with other tools, but this particular app allows you to do so instantly. There is absolutely no need for you to take advantage of some complex JavaScript options – the brand new automation extracts from the app will allow you to get the PDF form data from hundreds or more identical forms and export them into a single and accessible excel sheet. All of this is going to take place in a matter of seconds.
3. Export Information From Scanned PDF Documents : You can easily say goodbye to the tedious manual data entry efforts which is not only time-consuming but also incredibly prone to mistakes. The product has an advanced OCR technology which would allow you to convert piles of paper documents into a segmented archive of documents which are friendly for analysis.
4. Enhances your Working Capabilities : That's just it. Having something of the kind to rely on is going to ensure that you stop wasting time on mundane and particularly tedious, time-consuming and inefficient endeavors. Of course, someone has to take care of them and as such, this particular product is all you need to make sure that everything is handled properly.
5. Enhanced Text Editing : This is a product which enables you to conduct quick and comprehensive editing. Its engine is robust and it empowers the user to edit any type of document without issues. This is something very important. Documentation handling is a challenge and a burden that you no longer have to worry about. You would be capable of editing any document just like you could in regular MS Word without having to go through re-formatting and losing fonts and other elements.
Free eGiftcard Activity:
Everybody loves free iTunes and Starbucks gift-cards, In order to get the word going, Wondershare has initiated an eGift Card giveaway! You can get a free $5 or $25 Starbucks/iTunes gift card if you just share the video posted on the official website. It's an educational video which enables the person to see the comprehensive process which shows you how to create a fillable PDF from old documents in a matter of moments. Join us here>>
This is something which is going to significantly enhance the overall process of handling documents in your office. You don't need to be frustrated about handling information anymore as the product is easy to handle, quick to understand and particularly comprehensive. Given the importance of data analysis and its subsequent applications in business and other approaches, being able to carry it out quickly, actionably and without any additional issues is something that every business should rely on. With the PDFelement 6 by Wondershare, you would be capable of doing just that. The best thing about it is that it's not as expensive and now you can even get a free eGift card if you just share a simple video.