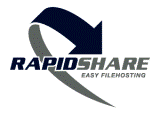 Bad news for Rapidshare Premium users, the file-hoster has decided to cut back daily download quota for premium users to 4 GB daily from 10 GB earlier, which means a reduction from 50 GB per week to 28 GB per week.
In an official press-release the company announced:
Due to the significant number of new users who subscribed to Rapidshare during the last two weeks, we decided to extend our internal resources. In order to maintain the best possible performance for all Premium users, we decided to limit the download capacity to 4 GB for each user during this transitional phase. Premium users will be able to save up to 30 GB of download capacity, if the daily 4 GB volume has not been used.
The new limitation should not affect majority of the users but will certainly hurt few doing heavy downloading on daily basis. If you are not rapidshare service fan and don't like their restrictions, I would suggest giving MediaFire a try, this can truly be a Rapidshare Killer.