RapidShare Security Lock is a new feature introduced by Rapidshare.Com for its premium and collector account subscribers, concerned by the increasing number of Rapidshare account phishers and hackers stealing and then changing premium account credentials, the file-hoster has now came up with this new security feature, once activated the feature safeguards users files, password, email address, and RapidPoints from unauthorized changes, the new features works by locking crucial account functionality using a second password known only to the premium account holder.
If you have not activated your RapidShare Security Lock you will be prompted with the red-unlocked icon below when logged into your account.

To activate the feature simply click the Activate Security Lock button and confirm the prompt below after checking that your email address is correct as your "Release Code" or unlock password will get mailed to this address.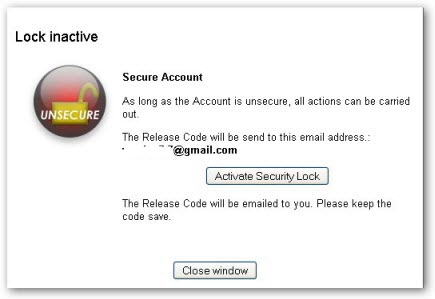 Once activated the red unlock icon will chnage to green locked icon as shown below.