Have you accidentally deleted a call log that you're now trying to retrieve from your iPhone?
Since you're reading this article, I'll assume that you have. Call logs often seem unimportant but sometimes they can prove important.
Usually, when you lose your call logs, or any other important information from iPhone, you can simply recover it from your backups. People usually create backups either in iTunes or iCloud. However, this might not work for several reasons.
First, you might not have created the backups so you can't hope to find it in your iTunes or iCloud.
Second, in order to retrieve the call logs from those backups, you have to restore the entire backup into your iPhone. As such, your current data gets completely replaced by your previous data. As such, in an attempt to restore old call logs, you'll lose all your latest information.
In this article, I'll show you how to retrieve your call logs using a dr.fone recovery software for iOS devices.
The method I'm about to show you can also be used to recover iPhone messages, photos, or any other lost information, without backup.
I'm recommending dr.fone — iOS Data Recovery for this purpose because it's the most reliable app in the market. iPhones are extremely expensive and they're also quite strict. As such, you should make sure only to use the most trusted tools for recovery.
In addition to enjoying the faith of millions of users, dr.fone has also been developed by Wondershare, which is one of the world's leading tech enterprises.
Now read on for a detailed outline of how to recover deleted call logs from iPhone without backup.
Follow the steps given below to recover deleted call logs from your iPhone directly.
1. First, you need to download and install dr.fone into your computer..
2. Next, you need to access dr.fone and choose the Data Recovery option from the menu.
3. In the next window, you need to select 'Recover from iOS Device.' This option will be available in the blue panel on the left side of the app.
4. You need to connect your iPhone to your computer using a data cable, and dr.fone will automatically detect your device.
5. In the next process, you have to select 'Call History' from the section titled 'Deleted Data from the Device', and then click on 'Start Scan.'
6. Now, you'll be sent to a gallery. On the left hand panel, you'll find several different categories and folders. You can navigate between them to browse through your call logs. The call details will appear in the gallery in the right side.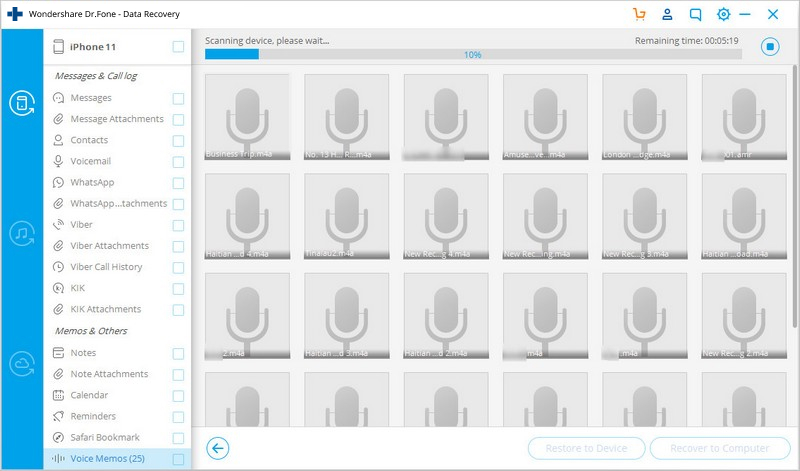 7. Select all the call log details that you want to recover and then click on the Restore to iPhone or Computer options.
This is an extremely simple process, and you can not only use it to recover all your deleted call logs, but also any other information from your iPhone directly.