Earlier, I have posted a tip to get PC maintenance utility Advanced WindowsCare Professional for free, Today I will show you a similar tip to get fully registered version of the popular software System Mechanic for free the legal way.
Most of you don't need introduction to this software, however if you have never heard about System Mechanic the software lets you perform complete tuneup of your Windows PC using a set of powerful tools to speed up, optimize, repair and maintain your PC to the optimum performance level.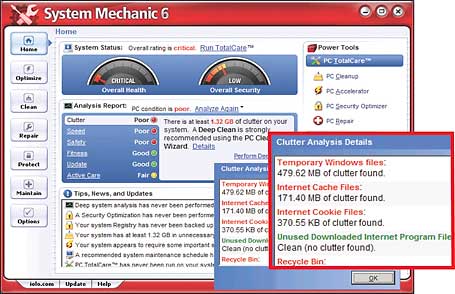 From the Manufacturer

Features:

* Faster disk defrag: defragment drives up to 300-percent faster than previous versions of System Mechanic, and up to ten times faster than Windows built-in defragmenter.
* Fix Windows security holes: new security optimizer wizard finds dangerous security flaws in Windows and repairs them automatically.
* One-click power tools: Easily perform important system maintenance with just one click. Repair, accelerate, clean, and secure your PC with one click using the System Mechanic comprehensive new Power Tools.
* Full service in one pass with PC TotalCare: Repair, accelerate, clean, and secure your PC with one click with the System Mechanic PC TotalCare tool.
* Repair hard-drive problems: New Drive Medic finds and fixes hard drive problems before they can cause data loss or system failure.
* Full disaster recovery: Recover from even the worst system crashes with Drive Medic Disaster Recovery. Rescue PCs that won't start and revive hard drives that were reformatted, repartitioned, or worse.
* PC accelerator wizard: the proprietary System Mechanic PC optimization techniques increase system responsiveness, decrease boot times, and speed up Internet and download rates by up to 300 percent.
* Advanced process manager: Take a look under the hood with the new advanced process manager and see what's running--visibly or otherwise. Automatically block dangerous items from starting again. Great for troubleshooting stubborn problems.
* Advanced startup manager: Review thorough information about the more than 20 different places where programs may hide to automatically startup with Windows. Automatically find and eliminate dangerous and unnecessary programs. Even permanently block programs from starting again through integration with System Mechanic Startup Guard technology.
* Decrease boot time with startup optimizer: find dangerous and unnecessary startup items and remove or delay them so that Windows starts up faster, making you more productive instead of waiting for unnecessary programs to load.
* Enhanced registry optimization: newly augmented optimization technology finds and fixes even more registry problems that would cripple your system.
* Improved spyware protection: Spython integrates new proactive "always on" protection from dangerous spyware, malware, adware, and unauthorized surveillance software.
* New comprehensive system-inspector tool: Get an ultra-detailed report of everything in your PC, from installed software, to attached peripherals, to core system hardware, and everything in between.
UPDATE: Get the latest System Mechanic 8 Serial Number For Free Here >>
To get the free full version, follow the steps below:
Visit this special promo link.
Click Continue button, Don't forget to disable your Ad-blocker to see the Countinue button
Follow on-screen instructions and complete the signup process.
Download the installer.
Install and use your own legal registration license key to unlock full version.