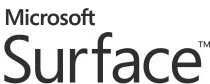 Microsoft has finally unveiled it's own branded Windows 8 and Windows RT operating-system powered tablet computer named "Surface".
Positioned as an long-awaited alternative and evolution to the current generation of Apple iPad, Android and Blackberry tablets - this tablet definitely seems to be "The gadget of the future", specially with it's new style, kickstand and magnetic physical keyboard bridging the gap between current tablets, laptops and desktop computers.
Specifications, features, high-resolution images and an awesome video introducing users to "Surface" are posted after the jump.