VIPeers is a new one of its kind hybrid free file-sharing service allowing users to share files upto 5 GB in size with ease, to share files users simply need to upload it using the web-based uploader or the PODMailing software, Once uploaded VIPeers provides direct HTTP download links with option to share file using the BitTorrent protocol without the hassle of creating .torrent file, adding trackers, and even the seeding.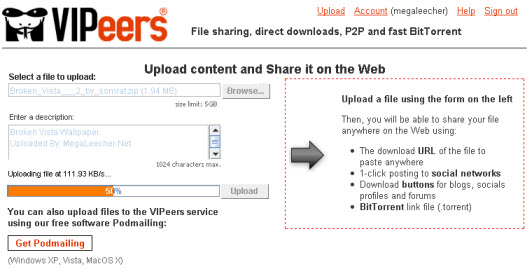 To make things even more easier VIPeers offers copy-and-paste code snippets for effortless sharing of uploaded files on blogs, forums, social-networks and websites.

When users click the shared download link/Widget, the download page loads offering direct-download link, torrent link and PODMailing link for downloading files using their software.
VIPeers is currently under BETA and requires an invite to sign-up, the good news is that we have EXCLUSIVE invite codes for our blog readers, Visit the Signup page and use MEGALEECHER457 as invite code.

In our tests the download speeds were pretty fast and the whole experience was quite good, With one-click uploading, easy sharing, multiple download options and fast download speeds, VIPeers could be the potential Rapidshare killer.