We are one more step closer to have an final Windows 7 SP1 release as Microsoft Windows 7 Service Pack 1 Beta made it's way for public testing at Microsoft TechNet, Weighing 1.22 GB in size the build number is 7601.16562.100603-1800 and was complied on June 3rd, 2010.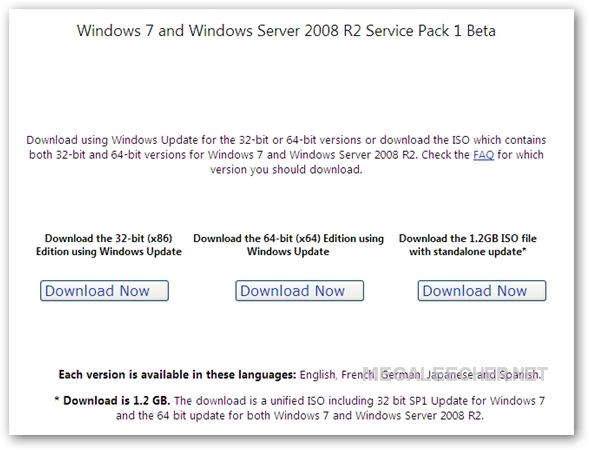 Changes specific to Windows 7

Additional support for communication with third-party federation services
Additional support has been added to allow Windows 7 clients to effectively communicate with third-party identity federation services (those supporting the WS-Federation passive profile protocol). This change enhances platform interoperability, and improves the ability to communicate identity and authentication information between organizations.

Improved HDMI audio device performance

A small percentage of users have reported issues in which the connection between computers running Windows 7 and HDMI audio devices can be lost after system reboots. Updates have been incorporated into SP1 to ensure that connections between Windows 7 computers and HDMI audio devices are consistently maintained.

Corrected behavior when printing mixed-orientation XPS documents

Prior to the release of SP1, some customers have reported difficulty when printing mixed-orientation XPS documents (documents containing pages in both portrait and landscape orientation) using the XPS Viewer, resulting in all pages being printed entirely in either portrait or landscape mode. This issue has been addressed in SP1, allowing users to correctly print mixed-orientation documents using the XPS Viewer.

Changes common to both client and server platforms

Change to behavior of "Restore previous folders at logon" functionality
SP1 changes the behavior of the "Restore previous folders at logon" function available in the Folder Options Explorer dialog. Prior to SP1, previous folders would be restored in a cascaded position based on the location of the most recently active folder. That behavior changes in SP1 so that all folders are restored to their previous positions.
Enhanced support for additional identities in RRAS and IPsec
Support for additional identification types has been added to the Identification field in the IKEv2 authentication protocol. This allows for a variety of additional forms of identification (such as E-mail ID or Certificate Subject) to be used when performing authentication using the IKEv2 protocol.


Support for Advanced Vector Extensions (AVX)

There has always been a growing need for ever more computing power and as usage models change, processors instruction set architectures evolve to support these growing demands. Advanced Vector Extensions (AVX) is a 256 bit instruction set extension for processors. AVX is designed to allow for improved performance for applications that are floating point intensive. Support for AVX is a part of SP1 to allow applications to fully utilize the new instruction set and register extensions.
Q. What is Windows 7 SP1?
A. Windows 7 Service Pack 1 is an update for consumers and IT Pros that helps keep your PCs supported, provides ongoing improvement to the operating system, by including previous updates delivered over Windows Update as well as continuing incremental updates to the Windows 7 platform based on customer and partner feedback, and is easy for organization to deploy a single set of updates.

Q: What is Windows Server 2008 R2 SP1?
A: Windows Server 2008 R2 SP1 is an update for enterprises and IT Professionals that includes virtualization enhancements, previous improvements delivered via Windows Update, and addresses feedback from customers.

Q. What are the system requirements for the Service Pack 1 beta?
A. Your current operating system must be the Release to Manufacturing (RTM) version of Windows 7 or Windows Server 2008 R2 (build 7600).

Q. Can I install the beta on an evaluation version of Windows 7 or Windows Server 2008 R2?
A. Yes. The beta of SP1 can install on RTM evaluation versions of Windows 7 and Windows Server 2008 R2.

Q: When will SP1 be released?
A: Service Pack 1 will be released within the first half of calendar year 2011.

Q: Who should download and install the Service Pack public beta, when it's available?
A: The public beta is best suited for IT Pros and developers who need to test the service pack in their organization or with the software they are developing. The ISO download for Windows 7 SP1 will contain both 32 and 64 bit versions. The final release of Service Pack 1 will be available through Windows Update for consumers when it is ready.

Q: Should customers who are considering deploying Windows 7 wait for SP1?
A: No. Windows 7 is a high quality release and provides many benefits to consumers and businesses alike. SP1 will include all updates previously available to Windows 7 users through Windows Update, so there is no reason to wait or delay their use of Windows 7.

Q. Can I upgrade from the beta builds to the final build of SP1?
A. No. You will have to uninstall the Service Pack or do a clean install of Windows 7 or Windows Server 2008 R2.

Q. Will there be a slipstream build of SP1 beta?
A. No. The beta will only be available as the Service Pack update itself. You will need to have a Release to Manufacturing (RTM) version of Windows 7 or Windows Server 2008 R2 to install the beta of the Service Pack.

Q. What languages will be released at beta?
A. For beta, we will release English, French, German, Japanese, and Spanish.

Q. Will I be able to uninstall the service pack beta?
A. Yes, you will be able to uninstall the service pack beta if you need to.

Please Note, it is always a best practice to back up your data prior to installing any beta software.

Q. Will the beta stop functioning after a certain amount of time?
A. Yes. You will be reminded beginning March 30, 2011. The beta will expire on June 30, 2011. You will have to upgrade to a newer build or uninstall and return to the RTM build by that time.

Q: What other improvements are included in Windows Server 2008 R2 SP1 besides the virtualization enhancements?
A: Please see the Notable Changes document for detail on the additional improvements in SP1.

Q: Is RemoteFX different than Remote Desktop Services? How do they integrate?
A: RemoteFX describes a set of rich media capabilities that are available to customers using the Remote Desktop Services platform to deploy a virtual machine- or session-based remote desktop infrastructure. Specifically, RemoteFX enhances the Remote Desktop Protocol (RDP) in Remote Desktop Services, so that remote workers can access any type of application or screen content, including rich media and 3D applications, improving end user productivity.

Q: Will Dynamic Memory be available on Microsoft Hyper-V Server 2008 R2?
A: Yes.
Windows 7 SP1 Public Beta download can be obtained from the following link at Technet :