Playing a DVD is not as easy as it seems. Even if you have a third-party DVD decoder installed on Windows Media Player, you may get certain DVD playback failures such as region error (e.g. cannot play DVD purchased in the UK in the USA), optical DVD drive is unable to read a disc, playback is choppy, the new DVD is noisy, and many more. You may also receive error messages like 'Windows Media Player can't play DVD because of digital copy protection', 'VLC can't set the DVD's title', 'can't decode disk from Windows DVD player', etc.
If you are wondering what is the solution to all these DVD decode problems, and rip DVDs to videos with WinX DVD Ripper Platinum.
It is a Windows-based software that rips DVDs/ISO images to a hard drive, such as DVD to MP4, AVI, HEVC, H.264, MPEG, M2TS, and MOV. It also enables you to copy DVD library to NAS drive, Plex Media Server, etc. and convert DVDs for playback on Apple (iPhone, iPad, iTunes, Apple TV), Android (Nexus, Samsung, Kindle, Huawei), Sony, and Microsoft (Windows Phone, Surface, Xbox).
This DVD ripping software has 4 modes – clone DVDs to ISO images, backup the main DVD title content, clone DVDs to a folder at a 1:1 ratio, and copy DVD title to a multi-track MPEG2 file with all audios, videos, and subtitles.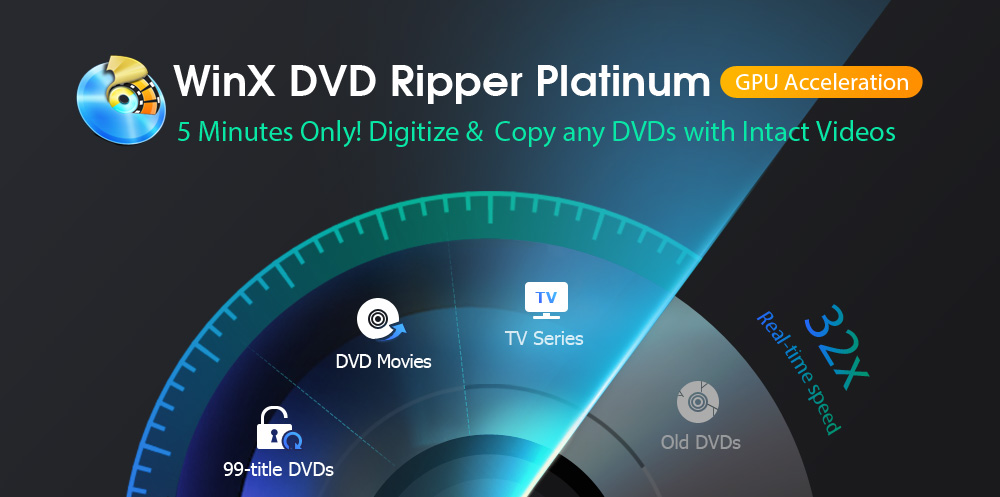 Here, we have managed to make a list of possible reasons for the errors that may be encountered while decoding DVDs-
• The DVD player doesn't read DVDs. However, chances are that this error occurs due to the scratches on the DVD (even those which are invisible to the naked eye). The bad sectors will be read in a loop until the DVD drive burns out.
• If the DVD drive is damaged, you will be faced with a DVD read error. In this case, you may have to spend lots of money on purchasing a new DVD drive.
• Sometimes the Windows Media Player doesn't play the DVD because the required codec must not have been installed on the computer. For e.g., Windows Media Player doesn't offer a software plug-in that enables the DVD video playback in MPEG-2 format, and thus, it will not play the DVD of this format. In this case, you will have to install a compatible DVD decoder.
• You may get region code errors. What regions code do is prevent the playback of DVDs in other geographical areas, for example, discs purchased in the USA won't play in the UK, PAL discs won't be able to be played on an NTSC standard player.
However, the major cause for the DVD decoding errors is that the DVD encryption cannot be bypassed. The best way to overcome these problems is to get your hands on WinX DVD Ripper Platinum. It is of utmost importance to create digital backup copies of DVDs to keep your essential data protected.
It has also been noted that sometimes DVD won't play on windows 10. Read below to learn the troubleshooting tips.
1. Rip DVD to Video and play with Windows Media Player. Windows Media Player 12 works fine on Windows 10 and supports formats such as AVI, WMV, MP$, MOV, M2TS.
2. Download and install third-party DVD player (5KPlayer) for Windows 10.

Let's get an insight into the features of free DVD decrypter.
• With quality-focused hardware acceleration (level-3 hardware acceleration), it makes digital copies of DVDs merely under 5 minutes. It fully utilizes GeForce GTX 1080 Ti, Intel Core i5/i7 CPU, etc. Its conversion speed is 32 times faster than that of other software.
• It offers support for all kinds of DVDs, no matter what encryption they are protected by.
• It converts DVD to AVI, MP4, MPEG, WMV, AVC, H.264, HEVC, TS/MTS/M2TS, M4V, MOV, FLV, etc. for sharing on Facebook, Vimeo, YouTube, etc.
• The software updates weekly to make sure that it supports the decrypting of the newly released DVDs.
• WinX DVD Ripper Platinum offers the highest quality DVD digital copies to be played on TV, mobiles, Wayno/Tesla, and more.
• The software offers flexible settings for advanced users. You can fine-tune and adjust parameters to tailor the output videos in terms of frame rate, bitrate, codec, aspect ratio, sample rate, etc.
So, hurry, and get your hands on the Free DVD Ripper!
How to Rip DVD to Video using WinX DVD Ripper Platinum?

Here we mention the steps how to use Winx DVD Ripper Platinum to rip DVD to Video.
STEP 1: Insert the DVD

Insert the DVD disc into the drive and open WinX DVD Ripper Platinum. Click on 'DVD Disc' button to import your DVD. Click on 'ISO Image' or 'Folder' button to load the DVD if you want to rip it to digital from ISO image or DVD Folder. The program will automatically choose the appropriate title, no matter what encryption is used.
STEP 2: Choose the Format

Choose output format such as MKV, MP4, etc. from the popup window as per your requirements. You can also click on the 'Edit' button to trim, crop, adjust audio volume, add subtitles, etc.
STEP 3: Hit RUN

Hit RUN and the DVD Ripper/Rip DVD will begin to decrypt the DVD immediately. You can even raise the ripping speed with hardware acceleration enabled. It will only take 5 minutes to rip a full DVD movie.

Participate in Winx DVD Ripper Platinum giveaway and try your luck in winning the free software license. Better late than never! Hurry!! Only a few days left. Grab the offer now.
The software is designed with great care and its functions behave impeccably. It is tested free from virus and is 100% secure to be used to decode DVD. For more details, you may browse the o