Wondershare TunesGo is the ultimate multi-platform smartphone manager though it's majorly for iDevices. Although there are many software programs which can handle all the platforms, they face a common problem; they do not support both platforms at the same time. Hence, this program just stepped up the game. Even iTunes is a no match. This is because TunesGo has some options which are unavailable in iTunes and also in the other software hence trumping them. With an uncluttered and intuitive interface, TunesGo manages almost every content of your smartphone, be it android devices or iDevices with much more flexibility. Coupled with options such as music and video, contacts, SMS, app, file manager and even root explorer, TunesGo is capable of performing functionalities which other software programs cannot. Truly, TunesGo was specifically built to cater for all ways you can manage your iDevices and android seamlessly without a hassle.
It's the features that make TunesGo special and worth of your time and money. The features include:
• A file explorer to reach every corner of your smartphone and organize media contents without straining your eyes; the screen is large.
• It has the ability to download media files from various famous sites such as YouTube.
• It's a multiplatform software, can operate and run on various platforms.
• There's no need for a cd burning software, it has that feature too.
• Offers the feature of a recorder, to record your own tunes.
• With a plugin, you can switch to iTunes mode, how cool is that?
• Backup and restoring media.
• This software can also root android devices. By having root privileges, android users can unlock many goodies and also tweak their devices for improved speed and many more functionalities.
• Lastly, content transfer. This is the feature that makes it standout as shown below.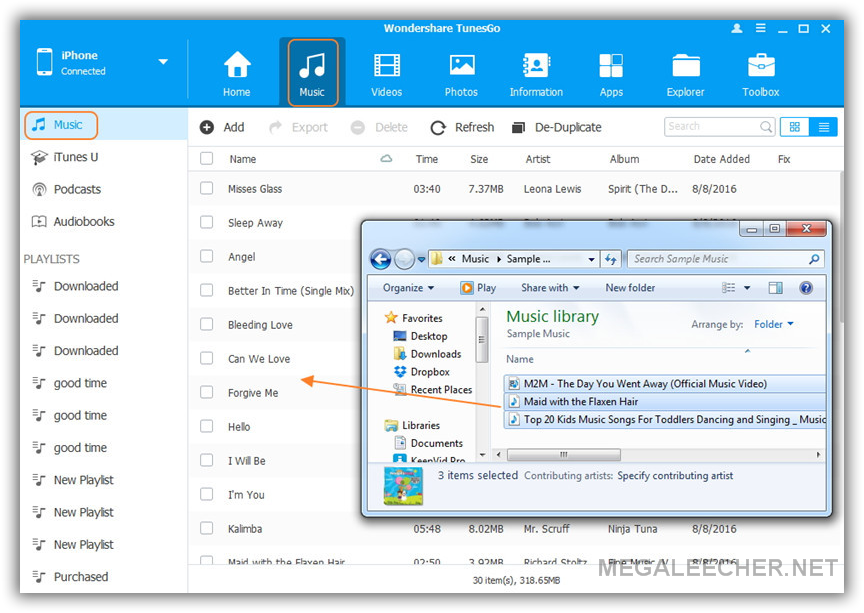 With this feature, you can transfer data and content from the PC to the iPhone. It's an easy task that involves opening the TunesGo Software and connecting your iPhone. The next step is to find the media you want to transfer such as songs. With the help of a playlist, mark the music and then export the files to your device. It's like another version of copying content from a PC to an external storage. This makes a perfect choice for users looking for a iPhone Transfer feature.

To avoid the nightmare that occurs when you accidentally lose data, TunesGo offers a simpler solution. This software can backup all of your contacts, messages and other contents without forgetting your media. You can either backup/ export to the Pc folder, external device or seamlessly to another device.
With the smart export feature, TunesGo will only update missing files in the backup. That is, if you add more content to your iPhone and back up again, it will only select the missing files and perform the backup, hence, saving time. When restoring the backup, it will not delete the existing files on your device, rather it will update the missing files.

With TunesGo, it's now possible to have contents of one iPhone readily available in another iPhone, this is achieved by directly copying the contents. Hence data transfer from iDevice to iDevice is no longer a problem. This also applies to other iDevices.

Since this software supports both platforms, transferring content is an easier task. Using the phone transfer feature, data can be transferred between iPhones and android devices no matter the android version. This is because its parked with several compatibility options to choose from for every device. the software offers. When doing the vice versa, it also builds/repairs the iTunes library/playlist to fit iDevices.
iDevice users can now play their favorite music from iTunes, this includes restoring them without any issues. Thanks to this software.

Wondershare TunesGo can transfer the entire media playlist from your iPhone to your iTunes. This lets you have another backup. It also allows fixing of music tags and the audio quality is not changed during the transfer.
• Easy to backup, restore, import and export content.
• ITunes backup is unnecessary since TunesGo restores media safely
• Can manage multiple iDevices and also android devices.
• Optimizes imported media to suit your iOS device.
• Exports media content and other files to a specified folder from any device.
• You have to buy it after using the trial version.
Wondershare TunesGo is a great multi-platform software for managing media such as iTunes library and non-media content such as contacts and messages with just a click. With the built-in features, it's a must have software for anyone who owns iDevices and deals a lot with PC or Android devices. It also comes in the trial version which enables one to test the features before purchasing it.