Wondershare video converter ultimate is an awesome video toolbox with a little stacked up price. Its interface is beautifully designed with cool colors, yet swift and very easy to use by anyone. It possess a lots of beautiful features that makes it a better choice for anyone. Let's take a look at the key features Wondershare video converter ultimate as:
Media Conversion
Wondershare video converter helps us in keeping our favorites movies, TV shows, and any interesting videos of yours. This software has a lot of formats at the right side of the program using the drop down menu, there you find a list of video output format you can pick from. It also has the favorite section or category. The favorite section is only used to store up frequently used format by you. Wondershare video converter is easy to use, should you don't know the best format you want your audio format to be converted to, there is a tab called device tab in which you can make a selection from a list of devices(iPad, iPhone, iPod, Apple TV, Nokia, PSP, Xbox and others). You are to pick the device you want to be watching the video on. It safes you the stress of having to know about codecs, bitrates and many other by using the device mode.
It has also has a feature, that permit us to burn our favorite video files into a DVD. You can also make certain changes, you might burn directly without any conversion. In this software allows you to pick the video quality you want and also changes the screen settings into the actual screen resolution based on your TV screen size.
Streaming and Download
Sometimes we get bored because we have watched almost every video we have on our pc. Wondershare video converter helps keep the fun going at any time and any place. Sometimes also we want to watch the latest movie, all you have to do is go to the download screen on the software, located the video of your choice and simply download it and it get stored on your pc where you can watch at any time. The software also has another download feature incorporated in it called turbo mode. It allows your video to download fast. There is also streaming feature, where you can watch all your favorite movies, TV shows and many more online without downloading it.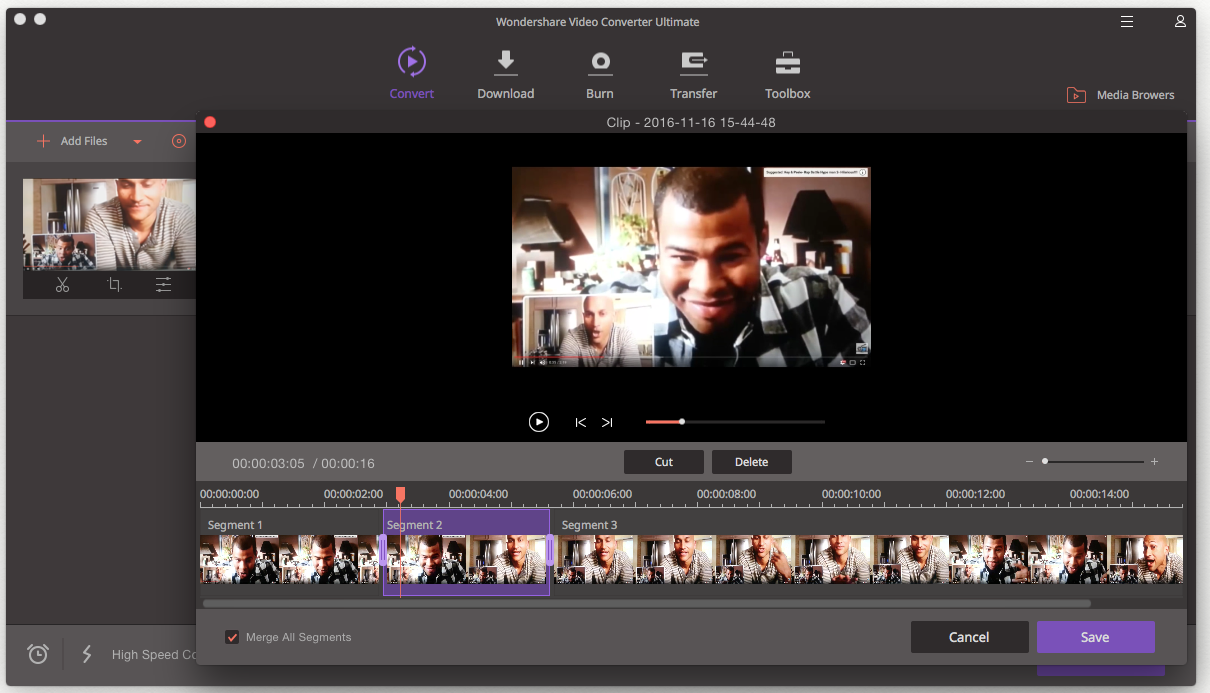 Pros:
Wondershare video converter is ultimately a better choice because of it large well-packed amount of features
It is very easy to use, there is no need for prior training or class before anyone can use it.
You can watch and enjoy your videos during conversion with its elegant player.
Compress videos and audios with getting a bad video resolution or quality.
It is compatible with 32 bits(x 86)/ 64 bits (x64).
You can also add subtitle files or lyrics to enjoy your movies or songs.
The file is not more than 55mb, yet contains perfect features.
It also has this awesome feature that allows the system to shut down after completion.
It also as fast download mode (turbo mode).
Allows you to connect to your TV without thousands of cables.
Cons :
Some features such as turbo mode and others are not available in the free mode.
If you are HTC user you might not be able to find your template.
It has multiple alert to upgrade to the free version, which is annoying sometimes.
Download :
Get this all-in-one, video solution from : https://videoconverter.wondershare.com/