Yahoo! Messenger 9.0 is now available for download, the software is an advertisement supported IM client and requires advertisements for generating revenue and offer service for free, However, if you don't like flash ads and were using any ad-remover earlier it might not be working now with the latest upgrade, However, today I will be sharing the best free utility to tweak Yahoo Messenger and remove advertisements.
Yahoo Messenger Tweaker would be the best utility to customize Yahoo Messenger settings and remove advertisements.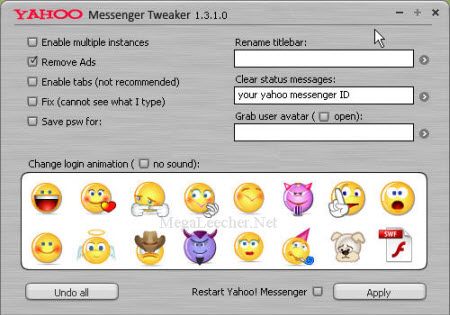 Yahoo Messenger advertisement removal.
Tweak to enable use of multiple Yahoo ID's in different windows on same computer at same time (Polygamy).
Tweak to enable Tabbed chat windows.
Change Yahoo Messenger Title.
Customize login flash animation to your choice.
Download Yahoo Tweaker [2.90 MB] >>
Also, Try A-Patch if looking for Ad-removal for Windows Live Messenger, MSN Messenger and earlier version of YIM.