Ideas are in everyone's head but what matters the most is how these ideas are executed/conveyed. Over the years, video has proven to be an effective medium to get a message across. However, before you put out a video, make sure that it is rich in terms of quality and edited in a way that will make it easier for viewers to both understand as well as enjoy your content.
This is where Filmora comes in! It is a free video editing software that gives you access to an extensive variety of editing tools. Over the years, the software in question has undergone several changes to improve user experience.
That being said, we will now turn our attention to draw comparisons between two of the most exceptional versions of Filmora namely, Filmora9 and the highly advanced FilmoraPro.

If you are new to the field of videography, Filmora9 can set you up for a good start. This software is packed with countless video effects and editing features that are easy to access and incorporate. Moreover, it features an exemplary user interface. Although Filmora9 welcomes all users, it specifically caters to novice and intermediate video editing enthusiasts, since it enables them to swiftly get a hold of numerous basic editing features and to-dos.

Once you are past the learning phase, we recommend you FilmoraPro to perfect your craft. It is a highly advanced video editing software that boasts a plethora of cutting-edge features and allows you to customize effects. In short, you get full command over your content and how it turns out.
Filmora9:
1. Easy to Understand and Use: Whether you want to trim your video, add video layers or carry out any other editing activity, Filmora9 makes it very easy for you to access and implement the required tools.
2. Drag & Drop Facility: Any tool that you are interested in using can be simply brought to the required point in the video's timeline.
3. Audio Effects: Gone are the days when you had to worry about your video getting struck down due to it containing copyrighted music. Filmora9 comes with a library that is constituted of tons of copyright-free songs and audio effects.
4. Impeccable Video Effects: Experience what it feels like to be a video editor with tons of options available. Choose from different types of filters, motion graphics, transitions etc. and make your video standout!
5. Motion Presets: Use this feature to your advantage and add fancy animations to your project in a quick and easy fashion!

FilmoraPro:
1. Advanced Editing Tools: While basic merging, trimming and layering tools are helpful in their own right, it's a completely different feeling to have access to complex editing styles that are included in FilmoraPro. Be it ripple editing, slide editing, slip editing or even rate stretching, the software in question helps you ensure that your video is edited and timed in a convincible fashion.
2. On-point Color Grading: With FilmoraPro by your side, you can easily ensure that the color settings of your video are as per your demands. You can:
i. Use Auto Correction tools to find the suitable color combination for any photo/video.
ii. Promptly alter highlights, shadows and other aspects to enhance image quality.
iii. Give your video a smooth vibe by making use of the Color Wheels.
iv. Enlist the help of Scopes to authenticate your changes and gauge their impact on the video.
3. Keyframing: Every single frame of your video deserves attention and FilmoraPro totally understands it and therefore presents Keyframing through which you can easily adjust the size, volume, opacity and other attributes of the video to make it consistent.
4. Audio Adjustment: A video, no matter how visually appealing it is, can fall flat if its audio is lackluster. To tackle this problem, FilmoraPro allows you to easily compress and (automatically) sync the audio as well as apply transitions to it and remove unneeded noise or sounds.
5. Easy Customization: Gain full control over your video with the help of numerous customizable effects that include warp, presets, transitions and more!
Filmstocks:
While we are discussing Filmora, it's only fair that we bring Filmstocks into the mix as well. While preparing a video, there's a high chance that you will require an already available footage that complements the message you are trying to get across through your video. For this purpose, we introduce you to Filmstocks!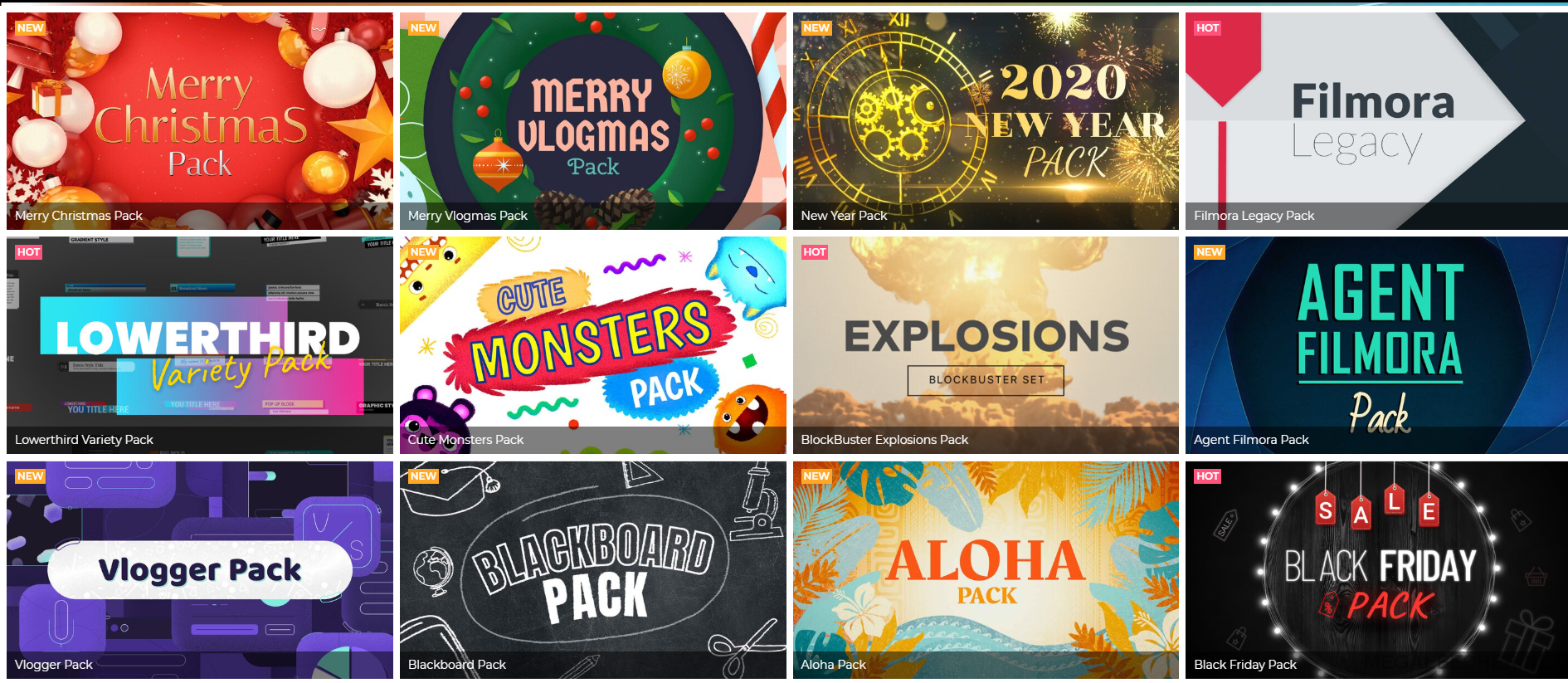 It is an online effects store that houses free stock footage for you to incorporate in your videos. The store contains an endless variety of royalty free images, audios, videos and effects. To add icing on the top, any piece of footage that you come across on Filmstocks is compatible with Filmora as well as other credible video editing software. You can either use it for free or subscribe to a standard or premium package for additional perks.
So, head over to Filmstocks.com now and easily search and download the right footage to use in your multimedia project!
While there's no doubt that Filmora is one of the best video editing software, the thing that really stands out is how flexible it is for its users. Whether it's about helping a beginner get a hold of basic editing concepts or assisting a professional with perfecting their work, Filmora caters to all.
If you are confused between Filmora and Filmora9, the first thing we would recommend you is to gauge your editing skills. Moreover, system requirements and costs are also deciding factors.
Happy editing and we hope that your experience with Filmora turn out to be a glorious one!