Nowadays you can find live streams of many different types of events, ranging from major sports events to special occasions, concerts, and other celebrations. Because streams are live however you need to be free and able to watch them while they're being aired – and if you miss out there is no way to go back and watch them later.
While there may not be a way to 'save' or 'download' live streams normally, what you can do is use Movavi Screen Recorder to record them instead. Because it can capture footage directly from your screen, you can record the live stream and then save it to your hard drive when you're done.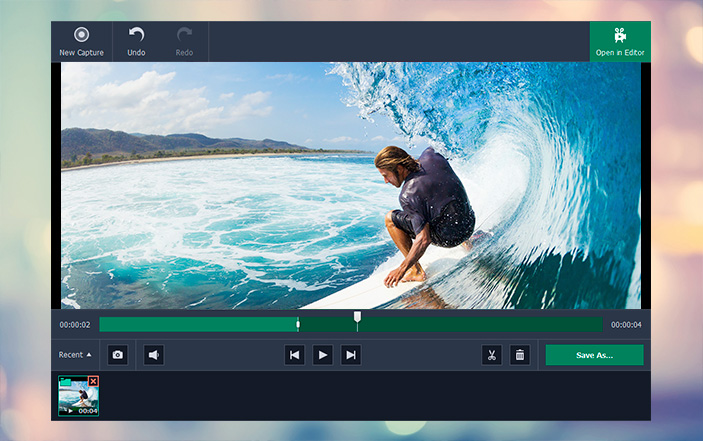 Frankly it is extremely straightforward to set up Movavi Screen Recorder so that it records any live stream. Assuming the live stream is already open, you can launch it at any time and draw a frame to encompass the video using your mouse cursor. Alternatively you could use one of the presets under 'Capture Area' in the interface.
To ensure that the audio from the live stream is also recorded, you should check that the 'System Audio' icon is green, or click on it if not. Seeing as you may not be free to start and stop the recording manually you may want to consider automating it, by clicking on the 'alarm clock' icon in Movavi Screen Recorder's interface and setting a start and stop time.
If you don't want to automate the recording, you can manually start it by pressing 'REC' as the live stream begins. Subsequently when it is over you can click 'Stop' and Movavi Screen Recorder will stop recording and save the video automatically in MKV format. It will display the video in a preview window as well, and you can trim out any excess footage right then and there, and save it to finalize the changes or just switch it to a different format if you choose.
It is worth noting that in some cases you may want to adjust the parameters in Movavi Screen Recorder further, and set the frame rate, adjust the sound levels, or record from other audio sources. Additionally you may want to capture keyboard and mouse actions, webcam footage, or use some of its other features as well – though they aren't necessary in this case.
All said and done however you should be starting to see just how easy it is to record live streams using Movavi Screen Recorder. Not only will it let you record the footage that you want, but the fact that you can automate it will help you ensure that you never 'miss out' on any live content in the future.