Surfing the web without someone else keeping a track of your activities is nearly impossible these days. Government and ad agencies are always keeping tabs on regular users' activities, and then there is the internet service provider itself, which keeps track of each and every website you visit. There is no escaping either of these entities. You can try out different techniques, but none of them will actually work. Your only way to keep them at bay is VPN. VPNs are designed to hide your actual IP address and change your server to a completely new location. As soon as you enable them on your device, all of your activity from there on out is completely hidden. So, if you are serious about anonymously surfing the web, then you should try out one of the following VPN solutions. From time-to-time we have been covering top free and paid VPN service providers on this blog to allow our readers enjoy the internet with fully anonymity and security, and here we are once again with a fresh list of top three free VPN service providers.
FalcoVPN
First on the list is FalcoVPN, and the reason why we have put it up on top is because of its unlimited bandwidth. Most of the free VPNs available in the market right now do offer free trials, but the bandwidth they offer is quite limited. If you are going to be surfing the web excessively, then you need a tool that can last you forever and this is the best tool for that. Another reason why we have put it on the list is because of its security protocols. It comes equipped with IPSec, IKEV2, LT2P, PPTP, and OpenVPN protocols, which will keep you safe from most of the online threats.
That's not all though as FalcoVPN also offers multiple server locations to choose from. This means you won't be stuck on one server that may or may not works. You will have a wide array of options and you can choose any one of them at will. Another great thing about this app is its user friendliness. All the necessary information you need is put up front, so you won't have to mess with the menus. You can simply enable, change servers, and disable the VPN from the same screen, which is quite convenient. FalcoVPN seems to be the best VPN service.
TunnelBear
TunnelBear is another brilliant free VPN app. It functions in a similar fashion as FalcoVPN, but this app's free version is limited. However, that does not mean it's bad or too restrictive, it's still a force to be reckoned with. A lot of servers are available around the globe and you can switch to any one of them to hide your browsing activity. Even internet service providers can't do anything against it because the actual IP shows no activity whatsoever. They can see the packets moving as the internet is being used, but they can't see what you're doing. As far as security is concerned, TunnelBear also houses multiple security protocols, which are there to ensure that your device doesn't succumb to any kind of security threat. It also has cutesy user-interface that contains equally cute icons. The purpose of these icons is to make you understand what you're doing with just one picture, and they do a pretty good job of it. The not so tech savvy people always have a problem getting used to a VPN, but they won't have to worry about a thing when they're using TunnelBear.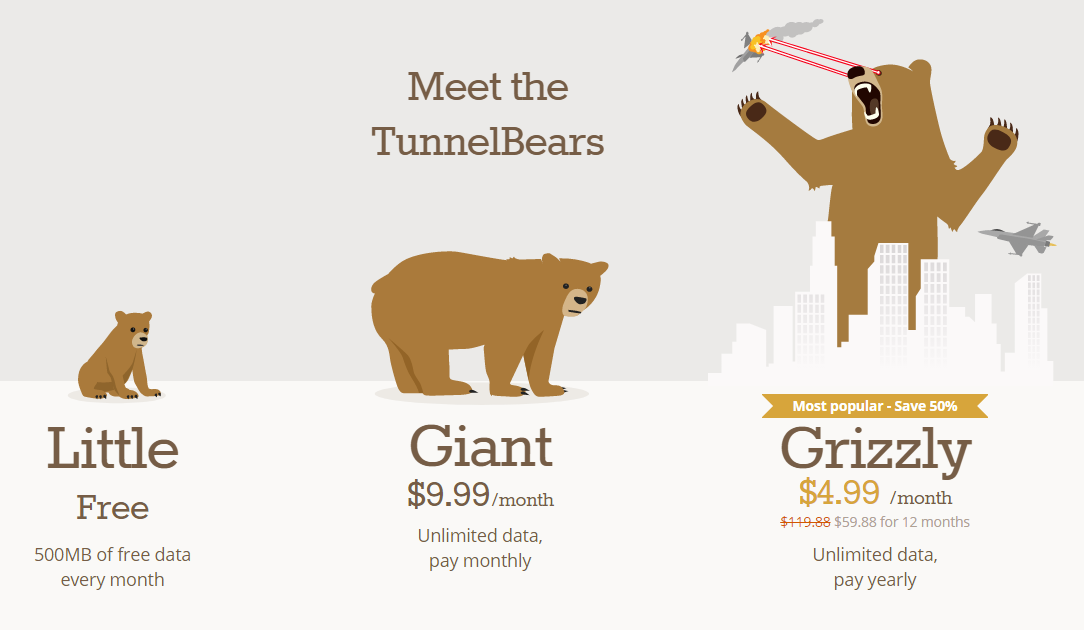 Windscribe
If both TunnelBear and FalcoVPN don't appeal to you, then you can go for Windscribe. Just like other VPNs mentioned above, it will also allow you to hide your online activities including your geo-location. Moreover, it can help you stream media that might not be available at your current location. All you have to do is switch your server to a location you're looking to stream from and it will be streamed for you without much of hassle. Furthermore, Windscribe has an amazing encryption that helps keep your activity hidden from the prying eyes. The user interface on this app can be a bit complicated and might not be easy to navigate for the beginners. However, as far as features are concerned, Windscribe offers a ton of them, all for free. If any of the aforementioned apps don't do the trick for you, then you can give this VPN a shot.
Verdict:
In conclusion, all three apps are more or less the same with minor differences. The main commonality between all of them is that they are all available for free. You can try out all of them and see which one of them provides you with complete anonymity. However, if you are looking to just settle on just one app, then FalcoVPN comes highly recommended. The lack of bandwidth limitation alone makes that VPN worth it. This doesn't mean that TunnelBear and Winscribe are lacking though, they are in a league of their own. You can't go wrong with either of these choices. Choose whichever fancies you, and we promise that you won't regret it.