In modern times, almost everybody owns a cell phone, but it may not necessarily be iPhone. iPhone users are nagged by multiple errors while playing and sharing iPhone videos from iPhone to other devices such as PC, Mac, etc. as well as watching DSLR camera, GoPro, DJI, etc. on iPhone or iPad.
Common iPhone Video Problems

• Failure of playing MKV, AAC, FLV videos, etc. on iPhone because of the format issue.
• Inability to play 4K 60PFS iPhone videos smoothly on VLC and other video players.
• Inability to play drone, GoPro videos on iPhone and iPad due to video format and parameter incompatibility.
• Inability to play music on iPhone because of incompatible formats.
• Inability to play/edit iPhone HEVC videos with old version QuickTime, Photos, Final Cut Pro, iMovie, Windows Media Player, Adobe, etc.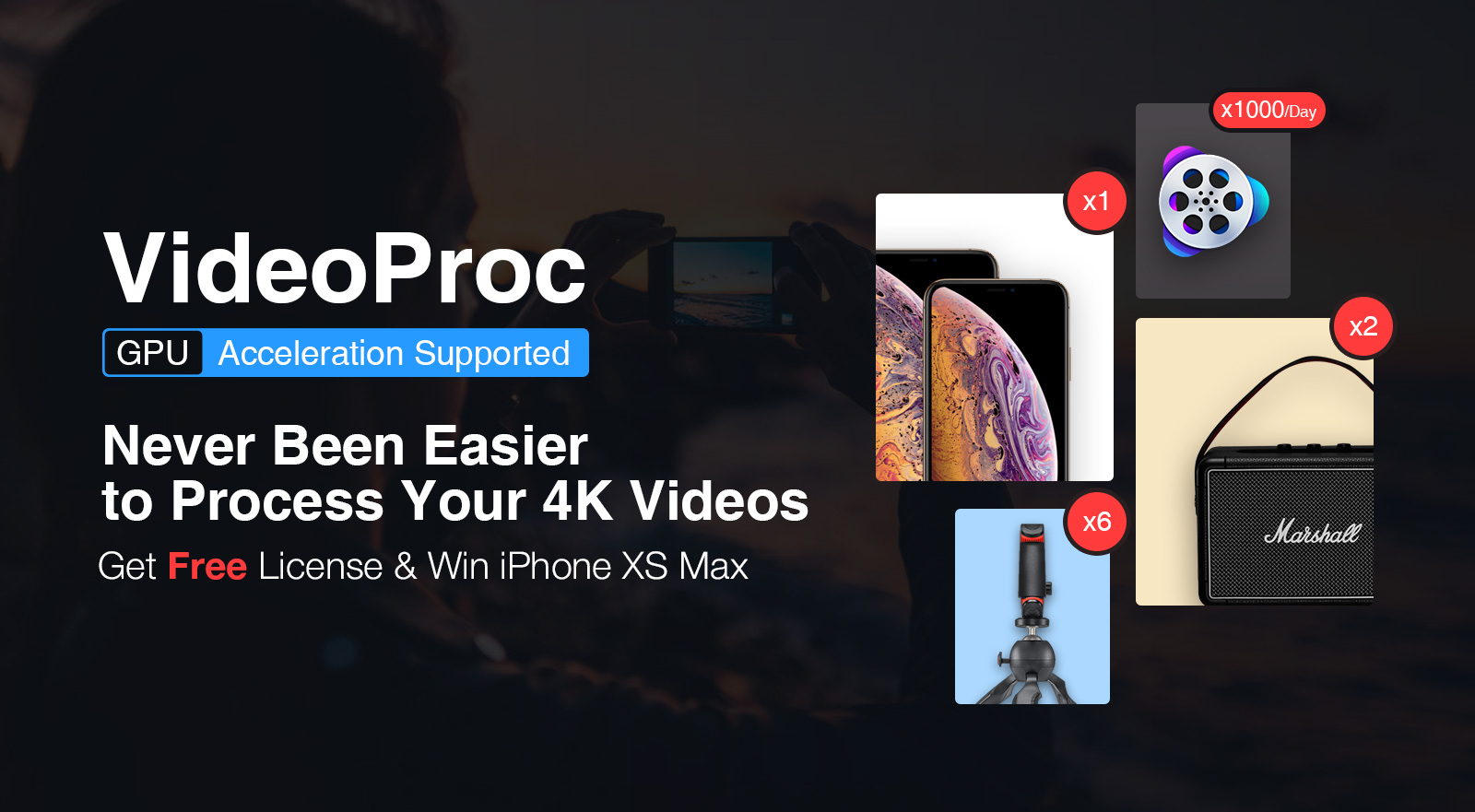 NOTE: HEVC (H.265) is the new Apple video codec. Though iPhone 7/Plus or later can capture videos in HEVC, these videos are unable to be played back on old version computers and some video editors and players.
There are various video converters available in the market but VideoProc is the best iPhone video converter that assists to solve the iPhone video problems.
Earlier, the videos recorded with iPhone could only be shared among the iPhone users. Many a time, it's required to share the iPhone videos with different OS such as Android. It was this inconvenience which led to a solution that fosters cross-platform compatibility.
The 4K 60fps/30fps/24fps and 240fps slo-mo full HD on iPhone X/8 videos recording have made playing iPhones videos on other devices such as Mac, PC, HDTVs, etc. even more challenging. For example, iPhone recorded 4K footages may fail to be added to the desktop. Or even if these are transferred successfully, the playback might be distorted and lagging in picture. But with the advent of VideoProc, all these problems work out fine.
How Does VideoProc Assist in Solving iPhone Video Problems?
• It converts iPhone videos @4K 60fps to playable formats & settings for Mac/PC, Android, Instagram, HDTV, etc.
• It encodes videos (HEVC, MKV, MTS, etc) from DSLR/DJI/GoPro/DVD/Website to MP4 or MOV for iPhone.
• It adjusts FPS, file size, resolution, aspect ratio, codec (e.g. HEVC to h.264), etc.
• It seamlessly edits, cuts, crops, merges, records, splits, stabilizes, slows down/speeds up iPhone videos and more.
• Its level-3 HW Acceleration ensures No.1 fast speed and fixes CPU overloading issue in 4K conversion.
VideoProc Giveaway & iPhone XS Max Sweepstakes

Chance to win yourself a License of VideoProc for FREE in the VideoProc giveaway!
The iPhone XS Max sweepstakes lasts from January 11, 2019, to February 20, 2019.
Grand Prize: iPhone XS Max
2nd Prize: Marshall Kilburn II
3rd Prize: PIXI Plus Mini Tripod Kit
Special Awards: VideoProc Giveaway License -1000 copies per day
How to Win the Prizes?
• Enter a valid email address to earn one entry of the iPhone XS Max sweepstakes and receive the VideoProc license key.
• Share the contest page, download VideoProc, follow VideoProc social media accounts and visit VideoProc official site to win more entries.
More ENTRIES, more CHANCES of WINNING the prizes!!
Hurry!! Take part in the campaign and Free get VideoProc and win iPhone XS Max.
For more details, visit https://www.videoproc.com/iphone-video-processing/iphone-video-converter.htm
How VideoProc Converts iPhone Videos?
VideoProc is a versatile 4K video processing tool, powered by GPU acceleration, which assists users to convert video and audio formats easily with no quality loss, and offers convenient video edit, compression, download, and record features.
How to Convert iPhone HEVC to H.264?
Steps to Convert iPhone HEVC to H.264 (Tutorial):
• Step1: Add Source HEVC Video
Launch VideoProc and press 'Video' button on the main interface. After that, click on '+Video' icon to import the HEVC videos taken by your iPhone from computer. OR drag the source video files into the software from computer.
• Step2: Select H.264 as Output
Choose 'H.264 MP4' as the output video format in the Target Format column.
• Step3: Convert
Click 'Browse' to specify an output folder to save the output video.
• Step4: Run
Tick 'Nvidia/Intel/AMD Hardware Acceleration Engine', and hit 'RUN' to start converting (iPhone) HEVC to H.264 (MP4) to make it compatible with all video players and editors.
Apart from this conversion, this excellent video processing tool,
• converts iPhone video parameters such as frame rate, bit rate, and resolution to let the videos play smoothly on 3rd party video players (e.g. it converts 4K 60PFS video to 30FPS) or reduces file size.
• converts iPhone video to GIF.
VideoProc also converts video/audio for iPhone playback.
For the Videos not playing on iPhone:
Tutorial to Fix 'iPhone Won't Play Videos' Error
Step1: Launch VideoProc
Open VideoProc and hit 'Video' on the main UI.
Step2: Load the Target Videos
Click '+Video' button to load the video that won't play on iPhone. You can also load multiple videos at a time.
Step3: Choose the Output Format
Choose a perfect output file format for iPhone.
Step4: Convert
Hit 'RUN' button to begin the conversion.
The tool also does the following:
• Converts MKV, FLV, AVI, etc to MP4, MOV for successful playback on iPhone.
• Converts music to AAC, MP3, AIFF, M4A, etc. for playback on iPhone.
• Converts camera, drone, GoPro videos to iPhone compatible format and parameters at one click.
• Converts music to iPhone ringtone.
• Converts 3D video resources to 2D for iPhone playback.
SOFTWARE HIGHLIGHTS
• VideoProc has a unique Level-3 hardware acceleration tech which offers up to 47x faster video processing speed, lossless video quality, and hugely lowers CPU usage to 40%.
• The tool supports the conversion of large 4K UHD videos very smoothly.
• It has up to 420 device-specific profiles and can convert any video to all models of iPhone, iPad, Android, YouTube, Facebook, Instagram, etc. without complex settings manually.
• It has an intuitive interface and easy operations. The software allows the finishing of iPhone video conversion in a single click.
Bonus Features of VideoProc
• It downloads videos from YouTube and 1000+ sites.
• It seamlessly edits, cuts, crops, merges videos, adds filters and subtitles on the videos.
• It records computer and iPhone screen without the annoying red bar.
• It converts all types of DVD to video for iPhone playback.
Apart from converting iPhone videos, VideoProc converts videos for Android, camera, GoPro, drone, YouTube, etc. also.
Hurry!! Don't waste another minute, and take part in the giveaway and get a chance to win VideoProc License for free.