First it was the leaked Windows XP SP3 Download and now there is a registry hack floating on internet which allows you to download Windows XP SP3 RC1 (Release Candidate 1)directly from the Windows update website, here is a quick and dirty little application to enable the registry hack on your computer. The third service pack (SP3) for the Windows XP Operating system is said to have 113 security updates and 958 hotfixes.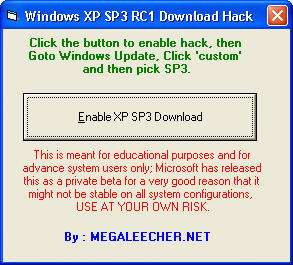 Pls. keep in mind that this is meant for advance users and educational purpose only, this is not the final version of Windows XP SP3, it is release candidate 1, Use at your own risk.
Link removed after DMCA notice from Microsoft to our web hosting provider.
XP SP3 Officially released, Click to download using direct link >>