One of the major new feature introduced in recently released Firefox 4.0 is the browser's ability to make use of computer's hardware capabilities to offer better text-rendering using hardware graphic acceleration, to make most out of this new feature Firefox addon "Anti-Aliasing Tuner" is here allowing customization of various Direct2D/DirectWrite text rendering parameters for personalized optimal results.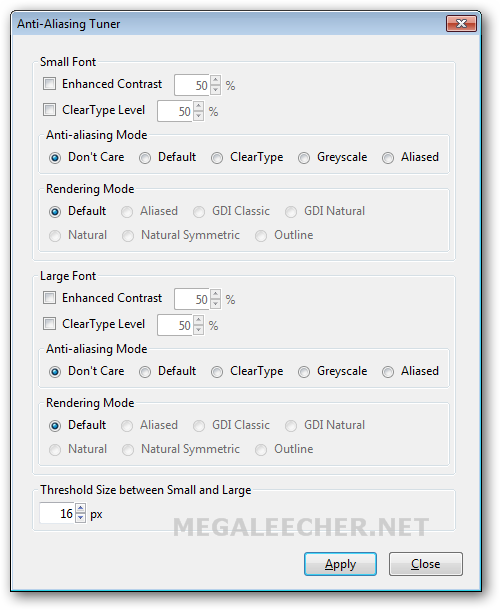 * Enhanced Contrast

The darkness of text. Valid value range is from 0% to 100%. Zero means no contrast enhancement. Default is 50% typically, but depends on your environment.

* ClearType Level

The degree to which the red, green, and blue subpixels of each pixel are treated differently. Valid value range is from 0% (meaning no ClearType, which is equivalent to greyscale) to 100% (meaning full ClearType). Default is 50% typically, but depends on your environment.

* Anti-aliasing Mode

Don't Care: use Firefox native mode
Default: automatically, according to Rendering Mode
ClearType: sub-pixel anti-aliasing
Greyscale: black-and-white anti-aliasing
Aliased: no anti-aliasing

* Rendering Mode

Default: automatically, based on the font and size
Aliased: no anti-aliasing
GDI Classic: glyphs can only be positioned on whole-pixel boundaries
GDI Natural: same as GDI Classic, but metrics are closer to ideal
Natural: anti-aliasing in the horizontal dimension only
Natural Symmetric: anti-aliasing in both horizontal and vertical dimensions
Outline: bypass the rasterizer and use the outlines directly

* Threshold

You can apply different settings to different size fonts.
The addon requires a installation of Windows 7 or Vista (Platform Update) with Direct2D/DirectWrite enabled Firefox 4.0b10 or later version to work, and can be downloaded from the
Anti-Aliasing Tuner Mozilla Addon page.