While the PirateBay and other public trackers are having problems with the authorities for copyright infringements many users are fleeing to private trackers to satiate their hunger for free media, However, These days not even private trackers seem immune to problems, ratio cheaters are using new tools to download faster and without having to upload back to the community - These users generally complain that the admins are "ratio fascists" and that the whole thing is more or less pointless since the BitTorrent protocol already rewards people for seeding.
Even the creator of BitTorrent Bram Cohen has come out against private tracker admins using ratios to ban people:
From Bram's Blog:
Some BitTorrent web sites have implemented upload/download ratios, with banning of people whose ratio gets too out of whack. The problem with this approach (aside from that it's completely unclear that not uploading is a problem to begin with, since tit-for-tat works well) is that it's overly punishing. Just a little bit of threatening to ban people can get the overall balance to be very heavily weighted on the side of uploading, making it difficult for people to accomplish a reasonable amount of upload even if they try.
We have shared tricks on how to cheat your torrent share ratio when in extreme need but all of them required users to download utilities like RatioFaker, RatioMaster, Tracker-Pro or GreedyTorrent but new free online service RatioCheat takes-care of your cheating needs without requiring download any utility on your computer.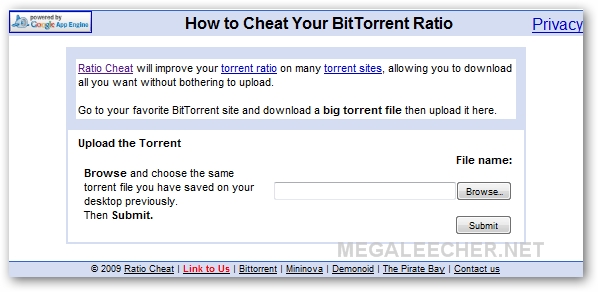 Unlike other similar utilities RatioCheat is an web-app so there is no risk of installing a potentially harmful EXE file on your computer, but it works just like other ratio cheating tools, increasing your upload amount to improve your upload/download ratio.
First you need to go to your private torrent site and download a torrent file, save it on your desktop and then upload it to RatioCheat, The site will then read the data from your torrent file, like the address of the tracker, how many files there are, how much data in total there is inside the torrent and then compute the "hash" of the torrent to identify it with the tracker, then RatioCheat will help you trick the tracker that you have uploaded the whole content of the torrent, For example if your torrent contains data for 2.69 GB RatioCheat will tell your torrent site that you have uploaded 2.69 GB and downloaded only 57 MB more or less a random amount. If you are fearful of getting caught you can cheat a little each day until your ratio gets fixed.
The whole process takes only 10 seconds and if you are lucky enough you will see something like this: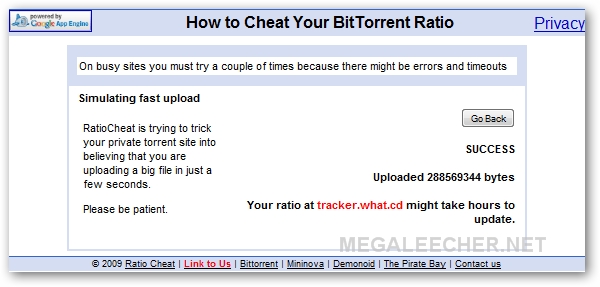 RatioCheat is free to use and has no ads as of now, the service is hosted at Google using their App Engine infrastructure.