If you care much about protecting your digital photos, and feel complicated to brand your photos with watermark yourself, here is a good watermarking program you should give a shot. To celebrate the exciting annual Halloween, Aoaophoto Digital Studio holds a giveaway for their fans. From Oct 18 to Nov 5, everyone can have a chance to free get their major product - Aoao Watermark for Photo, which is regularly price at $29.9.
Nowadays, watermark has been frequently used by professional designers, artists, and photographers to better copyright their original works. Since there is no good way to prevent others from ever being able to copy your online photo unless you do not put them online, the best thing we can do is to find a good and efficient way to make image downloading and copying more difficult, and to brand your image works and let others know you are serious about image protection. Watermark seems to be the most common and possibly strongest image protection technique.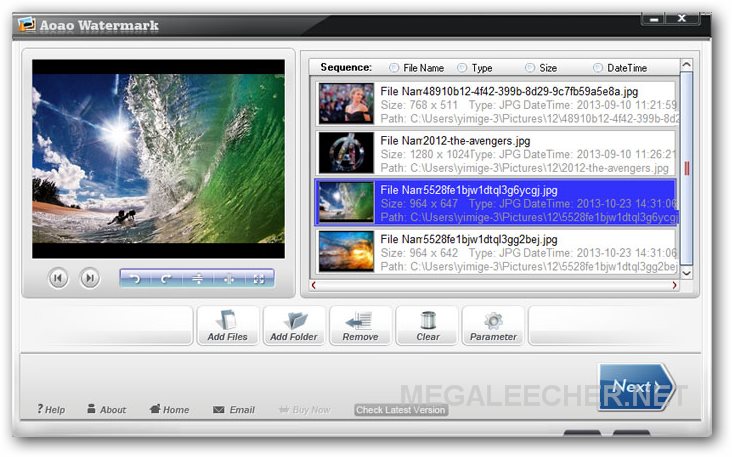 Aoao Watermark for Photo is a professional watermark software, which offers the easiest solution to put text watermarks, image watermark (including animated GIF), frame watermark to your images you want share online and protect them from unauthorized sharing or using. User can apply it to create visual watermarks in a range of styles, such as the text containing the copyright symbol, date, and name of the copyright holder or transparent image watermark of your company logo.
With its well designed and user-friendly interface, users can get started very quickly, especially for green hands. Besides, this photo watermark software has some basic editing functions, such as resize, crop and rename. It also supports watermarking photos in batch, which means you can deal with a large quantity of photos at the same time when you apply batch mode. It will take you 3 hours to add watermarks to 300 photos with other watermark software. But the watermark process will be shortened to 1 minute with batch mode of Aoao Watermark.
Add text watermark, image watermark (support animated GIF), frame watermark to photos.
Support a wide range of image formats and able to convert images to a lot of popular image formats, such as JPG, PNG, BMP, GIF, TGA, etc.
Support batch watermarking mode. User can watermark a great deal of photos in batch.
Control Fully over placement (drag & place the marking) and size of the watermark.
Provide many free watermark materials.
Go to Aoaophoto FaceBook Page.
Click "Like" button on its FaceBook Page to get Register Name and Register License Code.
Hit "Free Download" to download Aoao Watermark for Photo.
Giveaway version limit: No free upgrade service and free technical support.