If you are searching for a reliable and quick way to create a logo, and let's assume, you are no a big fan of PhotoShop or GIMP, this passage is perfect for you. In honor of Simplism, we believe that professional designing software that requires you to be skilled, like Photoshop, Illustrator or Open Source GIMP, may not be your best choice, at least for most of ordinary netizens. It's not wise to learn a lot before beginning your first move, and not mention of countless-browsing online just for a how-to step. Speaking of which, Adobe already realizes this issue and has announced that they will simplify some of Photoshop features in this year.
Those solutions with a steep learning curve are seemingly in a dead end, and what's our suggestion here? Maybe you would like to try an easier logo tool, for example, DesignEvo. Combined with a more reasonable price tag and easiness for navigation, it seems like a double winner and a good substitution for Logo Design with Photoshop. It requires only minutes and a few steps to render a profession-looking logo for any brand.
Megaleecher readers get EXCLUSIVE free coupon of "", normally priced at $39.99. The plan allows users to get print ready, high-resolution (5000x5000) PNG and JPG files along with Vector PDF and SVG having full copyright ownership.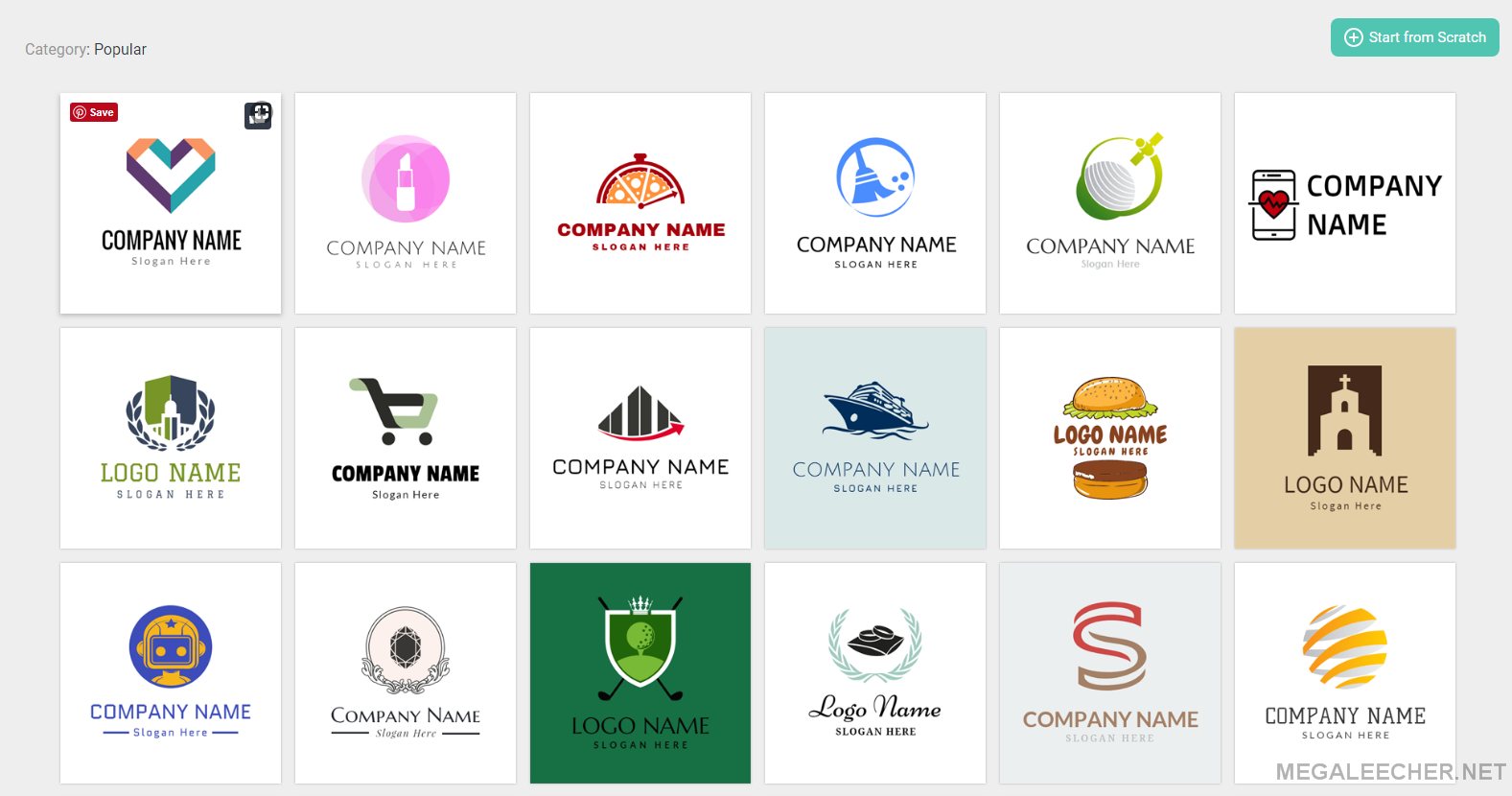 DesignEvo is a convenient online logo DIY service that deserves your try. 4000+ logo templates may cover most of designing needs. You can always find a decent & satisfied logo from its templates. And the costs for a logo design is acceptable and inexpensive. In DesignEvo, you can always design and print a self-designed logo in just a matter of minutes. Let's walk you through how it works.
How to Fast Design A New Megaleecher Logo with DesignEvo?
Go to DesignEvo homepage, we notice an entrance, preceding several displays of the templates. Whether pressing the [Make a Free Logo] button, or giving a click on a given template, we enter DesignEvo design interface in no time.
DesignEvo App URL: https://www.designevo.com/apps/logo/
When we design a logo, before moving anywhere else, the priority task is to write down logo brand and slogan. Here, for us, "Megaleecher.Net" should be the logo brand and "Making technology work for you..." is the slogan.
Step One: Choose A Template.
We decide to take a chance of the logo template and run "tech" in the search box. With a bit of luck and what a coincidence, we find a tech logo template that just looks like a wireless base station. That's something that we'd like to give a shot.
Select and click this template, DesignEvo will alert us to input a "Company Name" and a "Slogan" for our logo. So we just copy and paste "Megaleecher.Net" and "Making technology work for you..." respectively into each input box. Then run [Get Started].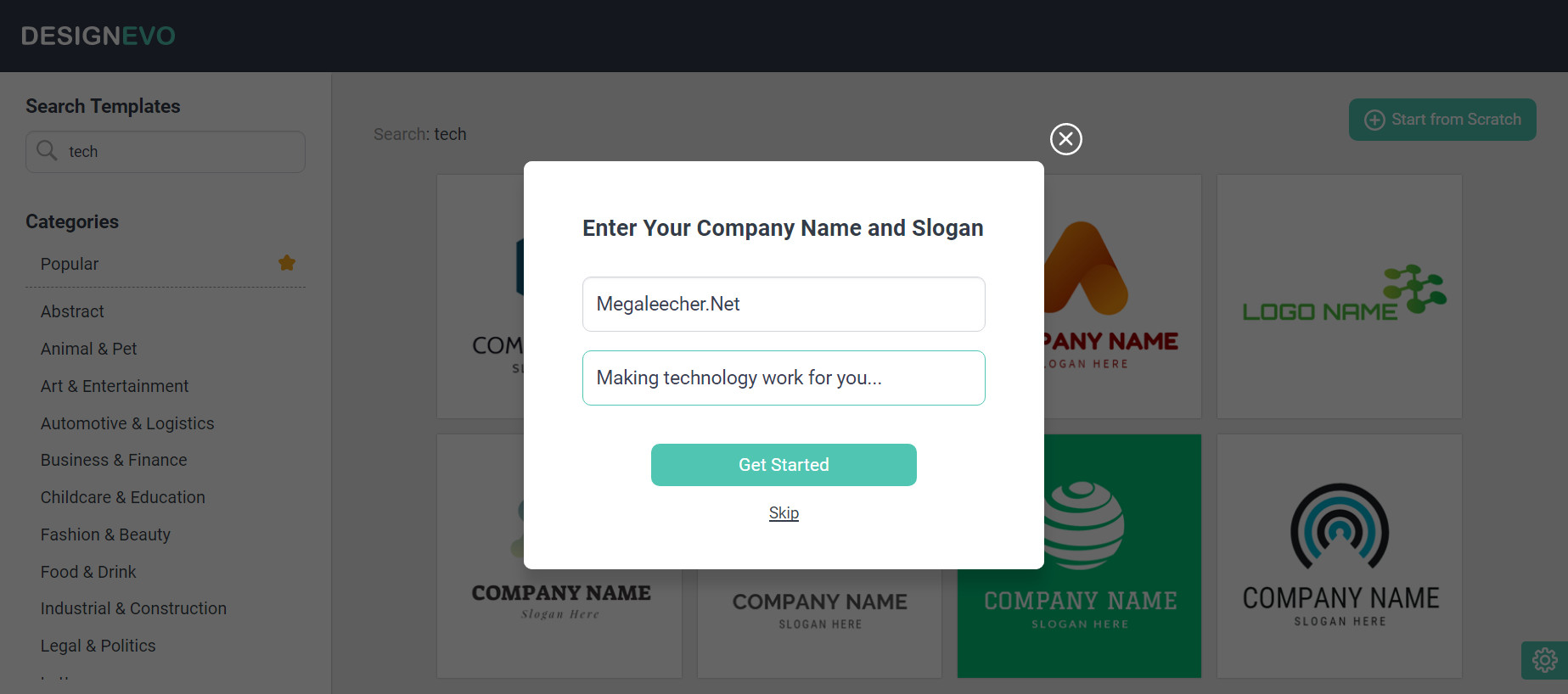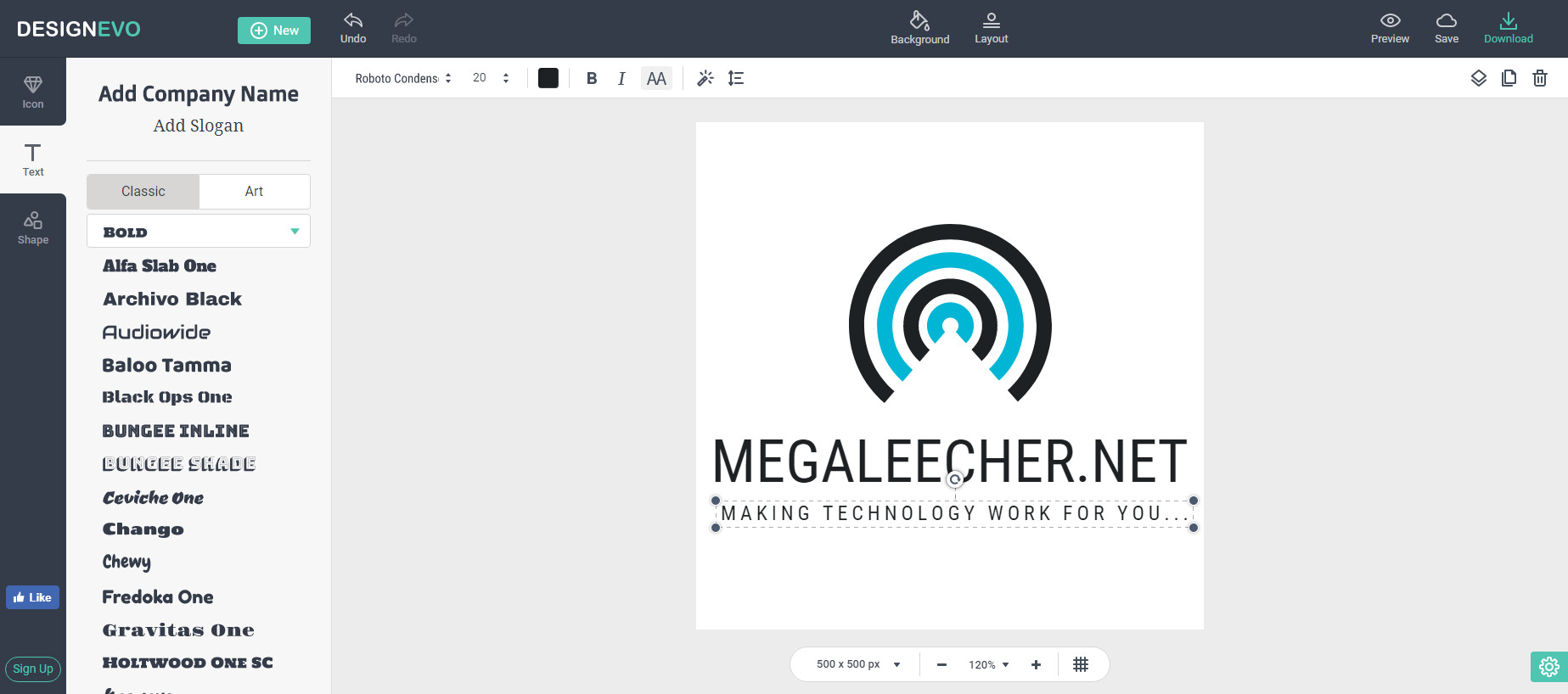 Step Two: Customize The Logo.
Well, the run of it does give our logo a nice appearance, but it's not up to par with Megaleecher. We are about to customize it.
The first thing that we do is to set up the canvas. Reset the logo size to 600 px * 300 px.
Secondly, we are not fond of the way how DesignEvo organizes elements. So let's change the sizes and positions. Just like many other graphics applications, DesignEvo allows its users to select all objects with mouse drag and drop.
In both Slogan and Brand name, there is an "M". Won't it nicer to split it? Delete the M in the two texts. Duplicate one Text, select all input letters and type M.
Thirdly, the logo feels slightly imbalanced. What we do is to find something tech-related in the Icon. Well, safe lock meets our need, since it represents safe and Megaleecher only shares trusted technology solutions. That's it.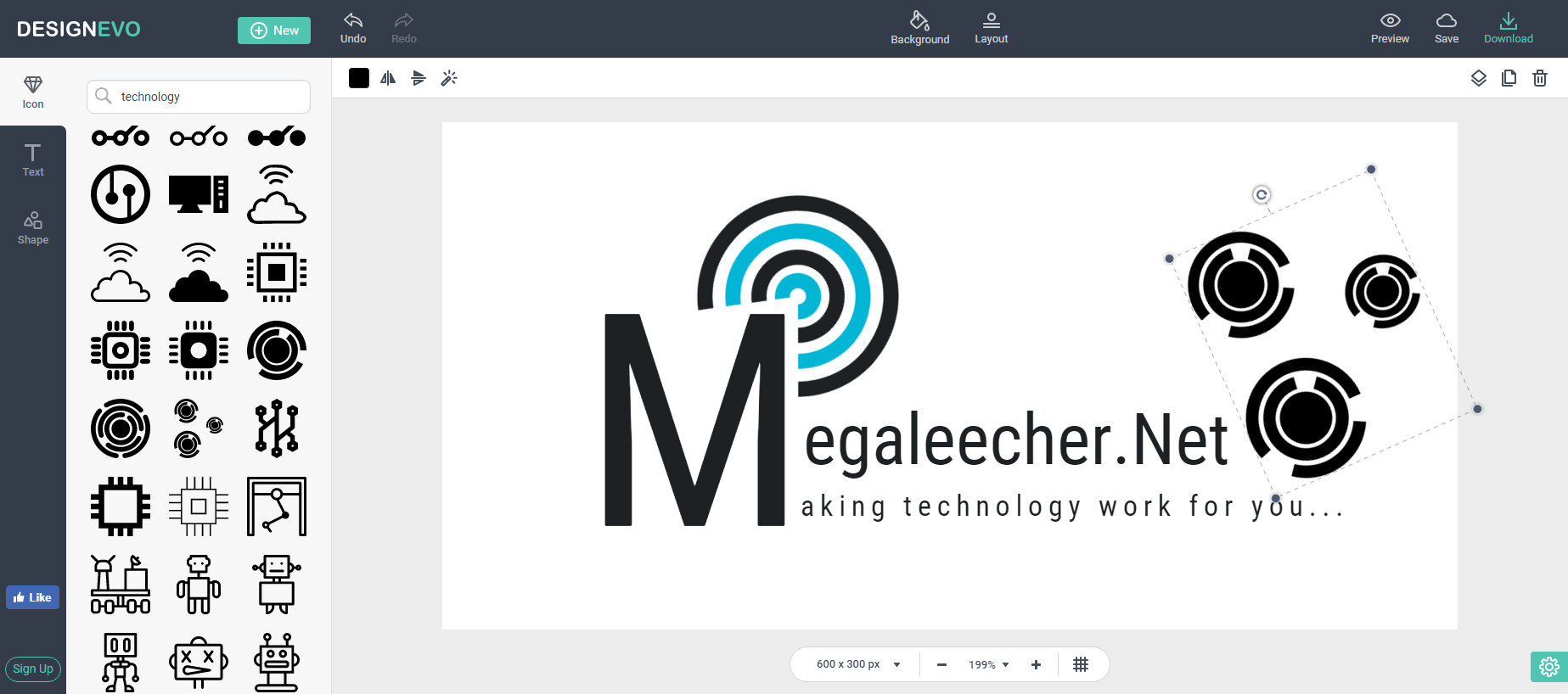 Fourth, adjust the color. Change the background color to "pure back:000000" and text color to "pure white: FFFFFF". Repeatedly preview and reset until we are satisfied. In honor of simple logo design, we just apply 3 colors to our logo.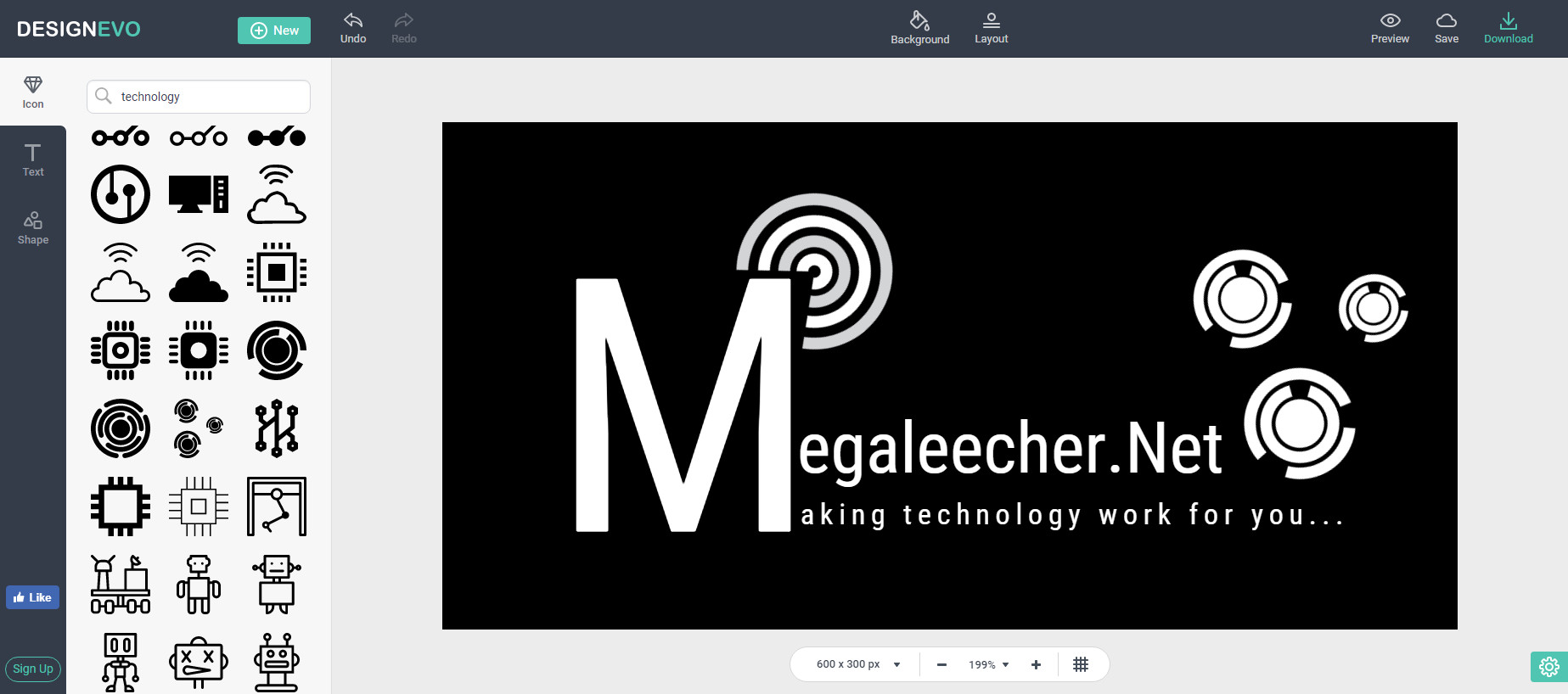 Step Three: Download The Logo.
After finishing logo design, we will only want to download the logo to our hard disk drive. DesignEvo's Download button is on the top right, a notable position. It offers 3 plans for different requirements. FREE is for normal PNG within 500 px * 500 px. In our case, FREE plan will resize the logo from original 600 px * 300 px to 500 px in width proportionally. BASIC plan incorporates a background-transparent PNG and a resolution-high folder. PLUS plan has all advanced features in BASIC, exceptionally offers an SVG vector logo and copyright support.
Exclusive Perks for Megaleecher
It's a delightful journey to navigate DesignEvo and design a logo. For Megaleecher readers only, DesignEvo team gives away "TEN" (10) 100% FREE coupons on its lifetime ultimate plan. There is no complex rule to participate in this giveaway campaign, you need to comment below "For what purpose you would use this logo maker?" and share this post on social-media. When the contest finishes, we'll contact the winners - make sure you leave a valid email-id in the email-field in comment box to get your prize.
Cheers~