There are lots of free and paid online photo sharing services, and Yogile is one such service making it incredibly easy to share photos privately and among groups. What makes Yogile different is that it cuts out unnecessary registration pages, passwords, and menus and make it fast and straightforward to put images on the Web.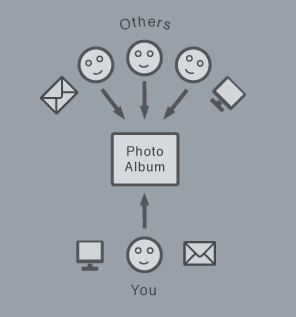 Apart from it's intuitive interface, Yogile's real strength lies in multi-user support. Once you create a photo album on the service, you get a custom URL that you can share with others you want to upload to your page. There's no need for them to register, and the process is simple, fast, and secure.
With options to upload by e-mail, mobile MMS and on the Yogile site, sharing and storing images is kept as easy as possible. Public, private and moderated albums are available to give a solid balance between simplicity and fine grained customization regarding who can see and upload which photos.
Take a conference, for example. Dozens of different attendees take their own photos, all from different cameras and angles. While you might try a mass email campaign afterward, asking everyone for their shots, Yogile offers a smart alternative.
You simply create an album on the site, and instantly receive a custom URL you can share with anyone who wants to upload images to your page. There's no need for these users to register private information, no extra barrier keeping them from adding content to your album. The process is fast, reliable, and free.
Visit : http://www.yogile.com/