Few days ago my Firefox profile got corrupted and resulted in loss of essential data, Loosing your browser's saved passwords, bookmarks, settings and customizations can be very frustrating if a lot depends on it, While searching for Firefox profile backup solutions, I came across FEBE - A simple to use, highly customizable Firefox Environment Backup Extension, unlike other Firefox backup and restore solutions FEBE lets you automatically backup your browser data of choice to Box.Net free online storage service, allowing you to easily synchronize your office and home browsers.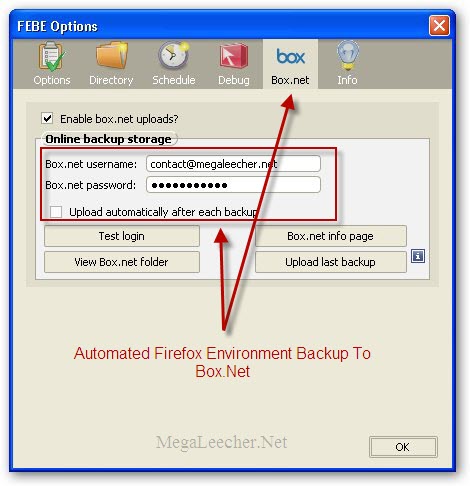 FEBE lets you backup your Firefox extensions, themes, bookmarks, preferences, passwords, cookies and just about everything else Firefox offers (it can even backup/restore your entire profile).
Features:
Schedule automatic backups on a daily, weekly, or monthly basis.
Save backups in time-stamped folders to easily identify when the backups were created. Specify how many folders you wish to keep and FEBE removes the oldest.
Backup reminder. FEBE can alert you if a backup has not been completed in a specified number of days.
User-defined backups. Make backups of virtually any file or folder - Firefox related or not. Just specify what to backup and FEBE does the rest.
Upload backups to your remote Box.net account automatically or with a single click.
Verify your extension directory. Upgrading to Fx 3.0 sometimes leaves garbage in the extensions directory. FEBE can clean it up.
Quick Backup. You can quickly backup as many or as few individual extensions/themes as you like. They can be saved together in a single, installable xpi file (Similar to CLEO).
MozBackup - Alternate Firefox & Thunderbird Backup/Restore Solution >>