"Invalid Node Structure" "The Volume Machintosh HD Could Not Be Verified Completely" is one error every Apple OS user must fear, the error is a sign of corrupt storage disk directory structure and the Mac OS X built-in Disk Utility fails to fix the problem. Most of the time a user would get stuck at the Apple Logo with the spinner, even if you are lucky to boot into the operating-system you will find missing applications and issues with your dashboard depending on which part of the directory catalog got corrupted.
Luckily, we do have quite a few tricks and tools up our sleeves to get this handled properly fixing the system making sure maximum possible data recovery. In this post, I will be sharing three possible solutions to get this issue resolved.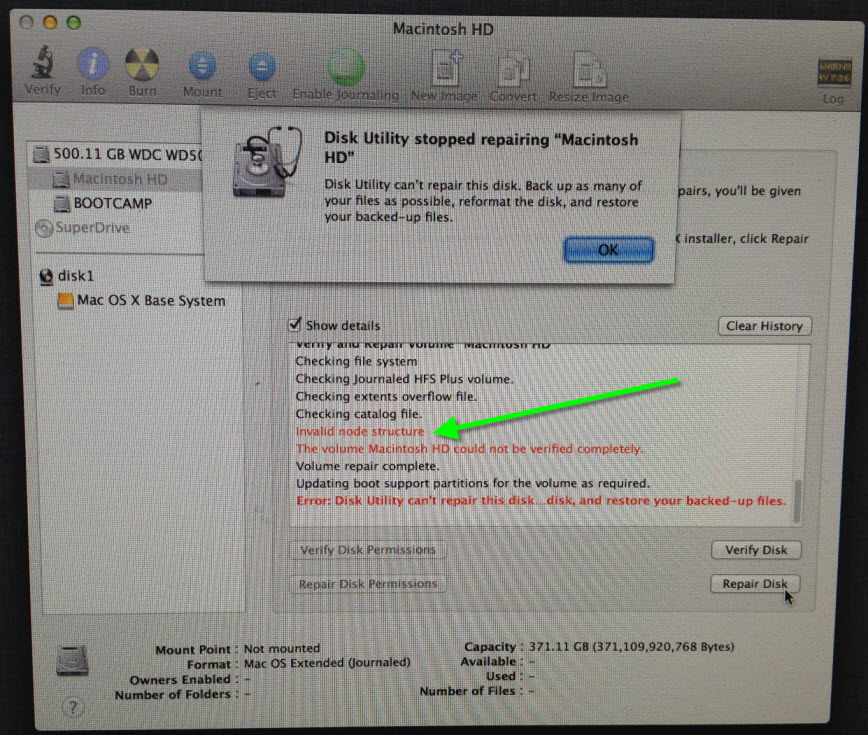 The most easiest method you should try first is to use the fsck command-line tool from Mac OS X recovery to check and repair the consistency of the corrupted file system.
Boot into Mac Recovery by keeping Option/Alt key pressed at boot.

Launch Terminal from Utilities menu inside recovery.

Use df command to get your Macintosh volume id which hosts the corrupt Mac OS X file-system, use the example below to recognize your "DISK ID" like disk0s2 shown below.

Unmount the Mac volume by using umount /dev/disk0s2 (change disk0s2 for your disk id) and then use fsck_hfs -r /dev/disk0s2 to get the process started.

Most of the time this would find and fix all issues.

Once fsck_hfs finishes, use Mac OS X Disk Utility to verify and fix any remaining issues. Unluckily for me, this still resulted in errors and I had to go for Method 2 and Method 3 shared ahead.
If you are using BootCamp on your Mac to dual-boot Windows which is loading fine after disk corruption, you can use the Windows utility Mac Drive Pro to recover data from corrupted Mac volume and even fix issues with it.
In my case the disk corruption also prevented Windows from booting, using Method 1 fixed it and I was able to launch Windows.
Once inside Windows I used Mac Drive Pro to repair the Mac Volume and Mount it inside Windows Explorer for data recovery.

While the above allowed me to backup my data from Mac Volume, it still did not fixed the Mac OS X boot and finally Method 3 worked fixing the Apple boot.
If everything fails, the only option left is to use a data recovery application which can scan and recover as much data as possible. Disk Warrior 4 is one such application which saved the day for me. You can either use a bootable DVD or create a bootable USB as shown below.
Get your copy of Disk Warrior 4 and mount the .CDR image from Disk Utility from Mac Recovery.
Partition a external USB pendrive to match the partition on mounted Disk Warrior image, clone partitions from .CDR image to your pendrive.

Boot from your Disk Warrior bootable disc from Mac Startup Manager.

Use the Rebuild option to start the recovery process.

Let the process complete.

Once completed you will be presented with a scan report, carefully read everything and if you are satisfied proceed with replacing of corrupt node structure catalog with the one recreated by Disk Warrior. This will result in data loss of unrecoverable files/folders, so make sure this is what you need done.

If you used the Replace button in the step above, Disk Warrior will go ahead and do the replacement.
Any method shared above can work for you, for me it took all three - Method 1 allowed me to boot into Windows and Method 2 enabled data backup from HFS volume while Method 3 fixed the Apple Mac OS X boot issue.