Father's Day is coming, and Simpo Technologies have started a free giveaway promotion on Facebook to celebrate. Simpo PDF to Word allows users to convert read-only PDF files to editable Word files, the utility does the job perfectly preserving the original layout, graphs, tables and text without requiring users to install Microsoft Word and Adobe Acrobat or Reader.
The software is regularly priced at $29.95 but can be grabbed for free under this limited period promo from Thursday on 16th to next Monday on 20th, June.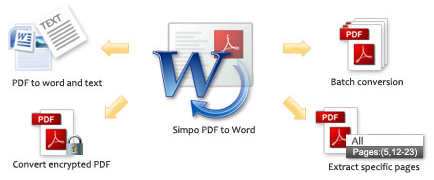 1. Convert PDF to editable Word format. Simpo PDF to Word converter allows users to convert PDF to editable Word format with PDF contents preserved well to Word documents, text, images, tables, graphics and hyperlinks will be converted from PDF to Word accurately.
2. Convert a batch of PDF files to Word at a time to save your valuable time.
3. Convert specific PDF pages into Word documents. You can select any useful PDF pages to be converted to Word as you need.
4. Convert PDF to Word and PDF to Text. This feature is unique. Simpo PDF to Word converter not only supports to convert PDF to Word, but also PDF to Text when you only need to extract plain text from PDF to Text.
If you have a Facebook account, you can easily get a free keycode to activate Simpo PDF to Word converter via their Facebook fan page: http://www.facebook.com/SimpoPDF, just visit the page and click the "like" button; Second, enter your email address (note: the email address must be valid) and click the "Send me Keycode" button. That's it, you will get key to activate totally Simpo PDF to Word converter for free in seconds.