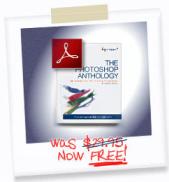 Under a promotion Sitepoint is giving away free downloads of eBook "The Photoshop Anthology: 101 Web Design Tips, Tricks & Techniques is the ultimate Photoshop compendium for web designers." for the next 30 days.
The book illustrates 101 tried and tested real-world Photoshop solutions that will add impact to your next web design project. If you've ever been stuck for inspiration, have puzzled over just how to create a shiny aqua-style button, or wanted to create that seamlessly tiling background image you saw on a site recently, you need to download this book.
Get eBook by submitting your email address here at offer page.