A tool that helps bringing people together no matter where they are – that is what briefly describes the chatting tools that people use today. These tools come different forms – be it the downloadable ones like Skype or those that are permanently ingrained into a site as a support tool like Facebook chat. There are others however, that aren't downloadable and can be embedded in a site. These tools, chat widgets, are very versatile and can easily provide the chatting capability that a site needs – and one of these chat widgets, Chatwing, can provide more than that.

Chatwing is a chatting tool that not only supports the site through its chatting capabilities but also provides entertainment as well. Added with its features, it becomes something that can also help the site in gaining more traffic.
Chatwing, like other chat widgets, can be embedded in a site in a very short amount of time using a very simple procedure. The user only needs to copy the chatroom's html code and paste into his site to make it go live. Chatwing's chatroom capacity however, exceeds the others by a large margin – it can hold up 7000 chatters at a time. This works perfectly for sites that rake in large amounts of traffic everyday.
For site owners who are hard to please with simple appearances, Chatwing can also work with them quite efficiently with its very detailed chatroom customization. The users can easily modify the chat software; color the whole body; modify everything about the text content, like changing the font styles, their sizes and even their color or allow the use of videos and images through links. Customization even allows audio files to be embedded into the chatroom to add spice to the conversation.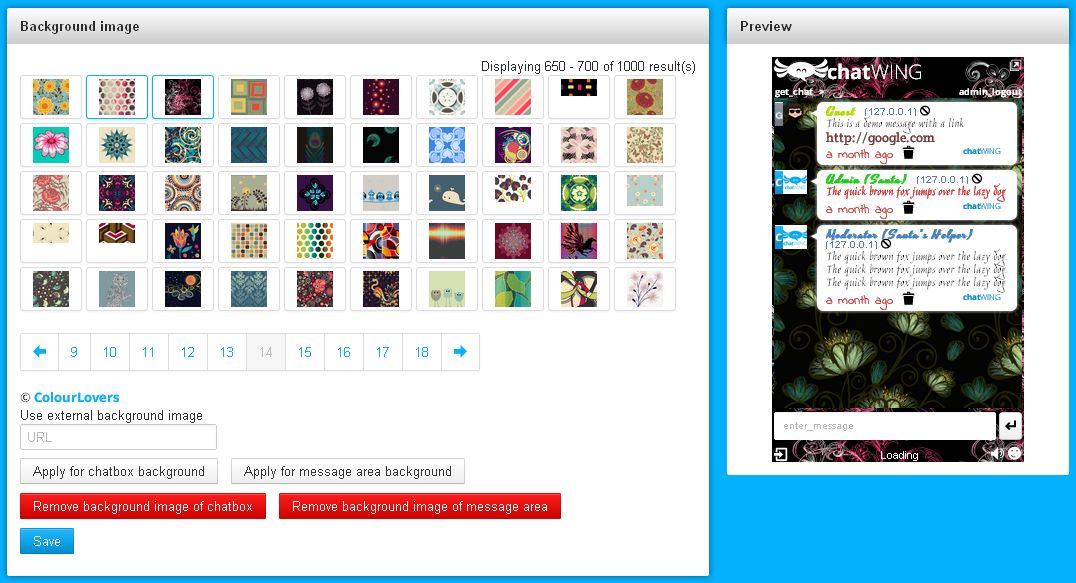 Chatwing's security features also compliment the tool in providing a great chatting experience for its chatters. The user has the ability to kick people, delete their messages and apply word filters to block profanity with ease. And for added security, he can assign moderators that can help him manage the chatroom. With the proper management of the chat app, site owners can be assured that their site's reputation won't go down the drain because of people spamming the chatroom.
Chatwing's reliability is already proven. Bloggers and site owners have continued to use this chat software to communicate with their clients much better. And Chatwing just keeps getting better and better.