If you have Wi-Fi or internet connectivity on your iPhone it's pretty easy to install carrier unlock Ultrasn0w via Cydia on your device, however, things get complicated if you have no internet or Wi-Fi available on your iPhone leaving you with no choice but to install Ultrasn0w manually which require working with iPhone file-system and file-permissions.
Thankfully, we do have a pretty much unknown utility 'UltraPusher' which lets users install MobileSubstrate and Ultrasn0w on their iPhone offline from any windows computer, all you need to do is to connect your phone via USB and let UltraPusher inject the required files automatically.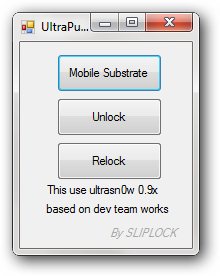 Download, extract and run UltraPusher.

Connect your iPhone to PC via USB cable and click 'Mobile Substrate' button to install it on your phone, reboot your phone when instructed.

Once rebooted click 'Unlock' button to install ultrasn0w on your phone, reboot your phone when instructed.

Your phone should now be unlocked and you are free to use any carrier SIM.