Indian Railways is one of the largest train networks in the world, with more than 1.6 million employees it is also the world's largest commercial employer, transporting seventeen million passengers and more than two million tonnes of freight daily this is surely one of the busiest rail networks in world. Indian Railways provides a simple and efficient online train reservation and information system through its IRCTC portal for its services.
While the official IRCTC portal provides all the information and services you need, it still lacks good presentation and ease of use, Today I will be sharing two new services allowing fast and efficient inquiry service for Indian Railways, The search services retrieves data from Indian Rail servers and display them in a much better way allowing you to easily find seat availability and fares.

The first service "Rediff Trains FareSearch" comes from Rediff the leading Indian online portal, the search offers nice ajax powered search suggestions and easy to use navigation with fast information retrieval.
Search results are provided with departure, arrival and fare details with links to check availability and online booking, Flight suggestions with full fair and schedule details are also displayed along with the train results.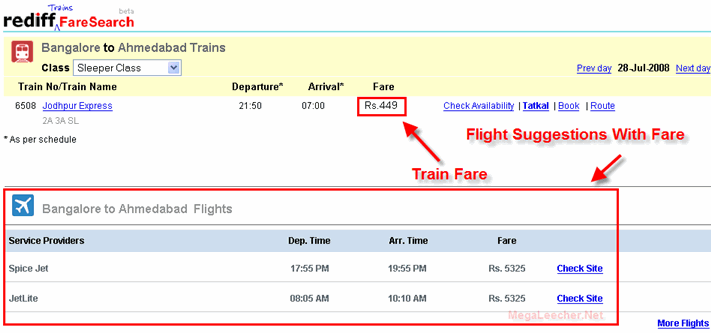 The second service "eRail.in" provides a very innovative and powerful ajax powered single-page browsing interface displaying all the information you need on a single page, which ironically also makes the interface cluttered and unfriendly for users, eRail.in offers all the information you need like available trains, time-table, schedule, fare, seat availability, PNR status, train route, and distance between two stations.
Personally, I prefer eRail over Rediff Trains FareSearch for its powerful interface. eRail service is in Beta and interface enhancements should be expected in future, I would suggest making use of fluid layout allowing proper information display for users with bigger screens.