Let's admit it, creating a backup of your photos and other files on iCloud service is easy, everyone can do this. But when it comes to retrieving photos from the iCloud backup file, most of the iOS users have no clue as to how to do it.
If you are unable to retrieve photos from iCloud service, this is the guide for you. In the guide below, you will learn how to recover deleted photos from iPhone and pretty much from any iOS device with the help of iCloud backup file.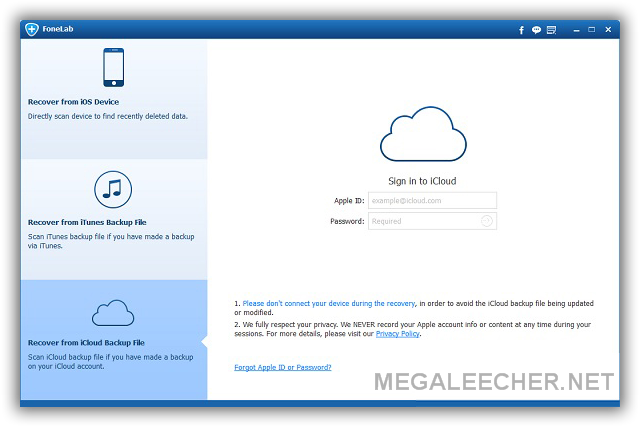 So let's get started.
It must be kept it mind that it will only work if you have created a backup of your photos from the iOS device.
The idea is to regularly backup your photos and other important files on the iCloud. If you don't, you will never be able to retrieve photos in case if you lose them.

In order to get photos from iCloud, you need to use an iCloud photo recovery software that will use the iCloud backup file to restore photos on your computer. So the first step is to download a reliable iCloud photo recovery tool.
Step #1: Download and run the iCloud recovery software

Run the iCloud recovery software on your computer. You will need to download the iCloud backup file which will be used to recover all the deleted photos. This file can easily be downloaded with the help of an iCloud data recovery software.
So once you have the software installed, run it and choose the appropriate option where it asks you to 'recover data from iCloud backup file'.
Step #2: Login and download iCloud backup file

Login to your iCloud account. You will see multiple files, choose the file that has your photos. Click on the download button. The software will download the file automatically for you.
Step #3: Scan the photos

Once the download will finish, you will see a 'Scan' button. Click on it.
The software will now scan the backup file. Be patient as it may take a few minutes.
Step #4: Preview and retrieve photos

You will see a lot of photos after the scan has been completed.
You need to preview the photos. Head to the photos and preview the photos. You can click on any photo to open it.
Find the photos that you wish to retrieve. There will be a lot of photos in the file, carefully preview all the photos and select the ones that you need.
After you have selected all the photos that you need, click on the retrieve button to move all of them to your computer. The recovery software will do this automatically.
This is how to retrieve photos from iCloud, simple isn't it?
You now know how to retrieve photos from the iCloud backup file using a recovery software. It is a simple four step process that works for all iOS devices whether it is your iPhone or iPad. You can retrieve all types of files with the help of a recovery tool and your iCloud backup file.
As already stated, it will only work if you have backup your photos on the iCloud.