The rumored new iPod Nano is finally here, now available in 9 funky colors and 8 and 16 GB variants the gadget seems stylish and sleeker, priced $149.00 for 8 GB and $199.00 for 16 GB the new iPod version also includes several usability enhancements.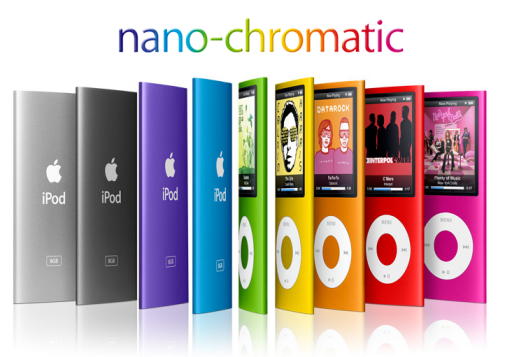 iPod nano rocks like never before. With the new Genius feature, iPod nano makes playlists of songs that go great together. The Genius feature finds the songs in your music library that go great together and makes a Genius Playlist for you. It's like having your own highly intelligent, personal DJ.
Faster Music Search - It's even easier to find the song you want to hear. Now you can view your album art in Cover Flow. Or just press and hold the Center button to browse by album or artist. When you find the right song, press the Center button to add it to your on-the-go playlist.
Tilt or turn iPod nano on its side, and you'll listen, watch, and play in new ways. You can flip through your album art with Cover Flow. Or, vertically speaking, see more albums and artists on the screen at one time.
Now you can get in on games made especially for iPod nano and the accelerometer. They respond to the way you move, so they're immersive, addictive, and a blast.
Just give iPod nano a shake and it shuffles to a different song in your music library. You'll always be surprised by what you'll hear.
Hold iPod nano upright and see your photos in portrait view. Turn it on its side to see them in landscape. Your photos look beautiful in their proper aspect ratio on the vibrant, 320-by-240-resolution display.
Watching movies, TV shows, and videos is big fun on iPod nano. And the high-resolution picture looks crisp and vivid on the 2-inch widescreen display. So you can always have a little video with you.
Now just give iPod nano a shake and it shuffles to a different song in your music library.
iPod Chromatic All Colors >>