The famous iPhone Dev Team have released another iPhone Jailbreaking utility - "QuickPwn", as the name suggest the Windows only batch files let users jailbreak iPhone more quickly and easily without requiring a full restore, the software is labeled as pre-release developmental snapshot so better handle with care.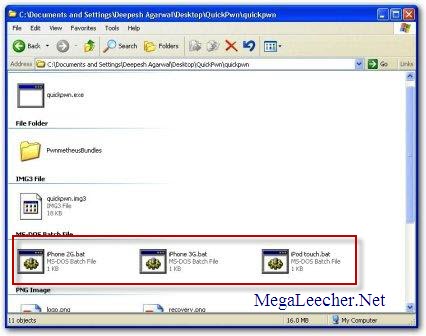 As the purpose of the utility is fast and simple usage there is no fancy interface, simply follow the steps below to get the jail-breaking process working:
1) Drop an unmodified 2.0.1 IPSW downloaded directly from Apple into the same folder as the quickpwn.exe binary.
2) Close all other applications, including of course iTunes and iTunes Helper
3) Double-click:
iPhone 3G.bat if you have an iPhone 3G
iPhone 2G.bat if you have a first-generation iPhone
iPod touch.bat if you have an iPod touch.
3) Follow the on-screen instructions.
As of now QuickPwn requires your device to be running version 2.0.1 of the iPhone/iPod firmware.
QuickPwn Direct Download Link >>
QuickPwn Rapidshare Download Link >>