We have to admit that Toshiba laptops still have a great number of users now. For those who enjoy the powerful functions and convenient services it provided, they always come across the same problem, "How can I unlock my Toshiba laptop on Windows 10 /Windows 8 when I forgot the login password"? It is indeed an annoying experience of forgetting the laptop passwords.
However, in our daily life, for the sake of our information safety, we are used to set the complex passwords for everything, including the Windows login password. So, it is common to see people ask for help about how to unlock Toshiba laptop without password. In this guide, we will explore 2 methods to reset forgotten Toshiba laptop Windows password which can help you out of trouble.

Windows systems offer users the option to create a password reset disk so that they can be safe against password forgotten. You are able to create it at any time before you are locked out of the Toshiba laptop. If you have such password reset disk, you can follow the steps below to reset Windows password.
Step1: Connect the password reset disk with your locked Toshiba laptop.
Step2: Restart your locked laptop and try to type your password. After you typed the incorrected password, you will see a link for reset password under the password input box. Click it and you will enter Password Reset Wizard using interface.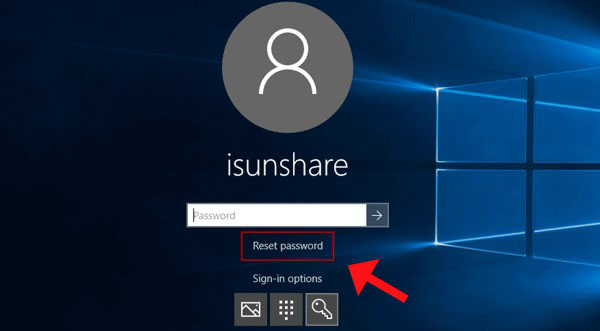 Step3: Follow the Password Reset Wizard guide to reset the password. At the end of this process, you need to click Finish to close Password Reset Wizard so that you can login Toshiba laptop with the new password.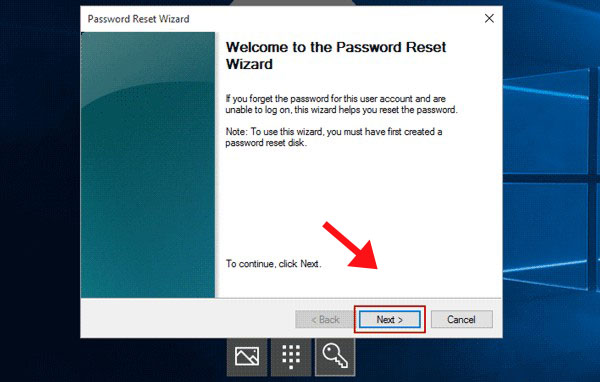 Note: This method can also help solve password forgotten problems for other brand laptops, such as Dell, Asus, Acer and Hp.
If you did not create the password reset disk for the laptop or the password reset disk is not here with you, what should you do? Here iSunshare Windows Password Genius comes to help. iSunshare Windows Password Genius is the reliable and professional Windows password remove software that helps thousands of users remove Windows password without knowing the previous password.
How to unlock Toshiba laptop with iSunshare Windows Password Genius

First, you need to create the password reset disk with an accessible computer and a USB flash drive or CD/DVD. Here are the specific steps below.
Step1: Download iSunshare Windows Password Genius from its official website. Install and run it to burn iSunshare Windows Password Genius into a removable disk. You can choose USB or CD/DVD to create the password reset disk. We recommend the USB flash device as it is flexible to carry.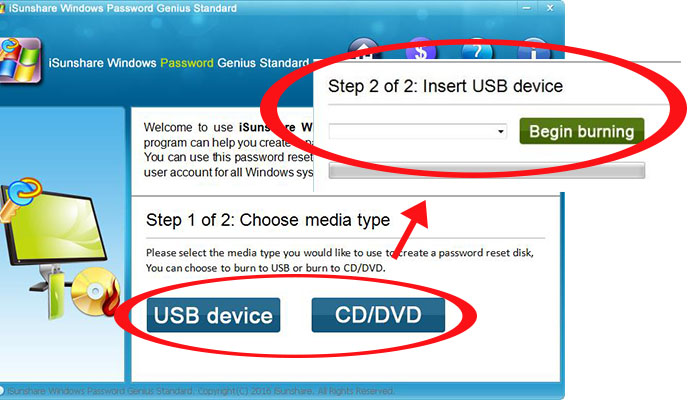 Step2: Restart your locked Toshiba laptop and plug the bootable USB/CD/DVD into the laptop. When the laptop logo appears, you should keep pressing F12 and wait the Boot Menu displays. It is up to you to boot the laptop from USB or CD.
Step 3: When the Toshiba laptop boots, iSunshare Windows Password Genius is run on the laptop. You are free to choose the Windows and user account of which the password you forgot. After that, Click Reset Password button and make the password blank. Therefore, you succeed in removing the previous password and unlock your Toshiba laptop. At last, disconnect the USB or CD drive and reboot your laptop.
Besides, if you do not have an accessible computer alongside, you are able to create the password reset disk with iSunshare WPGenius. iSunshare WPGenius is the short name of iSunshare Windows Password Genius for Android , which can help users to create a password reset disk with an Android phone. It is safe for you to unlock the Toshiba laptop with the Android phone reset disk.

In this tutorial, we just cover 2 methods to unlock Toshiba laptop by using the password reset disk. We all hope that you will never forget the password of your laptop. In case you are locked out of the laptop, it is better to prepare a password reset disk when you set the password to lock your Toshiba laptop.