Rapidshare free users have to face several annoying limitations including pre-download timer, no simultaneous downloading and variable download wait before successive downloads, because of these limitations downloading multiple-files one after another can be tedious for free users, today I will be sharing a free utility "Rapidshare Plus" to overcome this problem, the small portable utility lets users add and download a queue of Rapidshare links one after another in a fully automated way.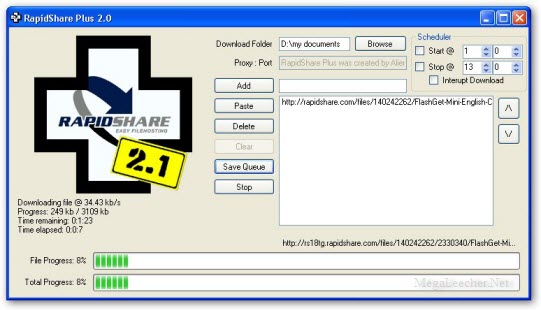 The user interface is very easy to use and intuitive, users simply add Rapidshare links to create the download queue, and Rapidshare Plus will do the rest automatically downloading file one after another saving them to the folder of your choice.
Fully automated Rapidshare links downloading.
Manage download queue using Add/Delete/Save queue options.
Ability to start/stop the download process.
Full download details including - current and overall download progress bar, download speed, time-elapsed and time-remaining.
Presence of non-functional proxy option in Rapidshare Plus interface signals proxy downloading support in upcoming versions.
Download Rapidshare Plus 2.1 [40 KB] Updated to 3.1 Download Here, Read More Here >>
VirusTotal Result : 0/36, Report Here >>
As pointed out in comments from one of our readers from France, Raptor is another free solution for the same purpose, Raptor provides functionality similar to Rapidshare Plus with additional features like proxy support with handy options to minimize the application to system-tray and launching with Windows, However, Rapidshare Plus would still be my first preference as it requires no installation and is much lighter and faster to launch then Raptor.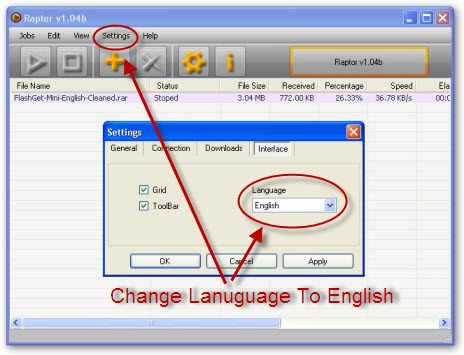 Raptor is set to use Russian language as default, you can change it to English or Ukrainian by following the picture guide above.
You can also try other free Rapidshare Downloaders shared earlier on this blog.