One of the most popular Siri alternative on Google Android platform - Speaktoit Assistant just got updated with some new features. The virtual assistant mobile app has been one of the most highly competitive spaces in tech for the last year or so. While Siri opened the doors when it launched on the iPhone 4G last year, the Speaktoit Assistant and others started getting traction by Android owners who didn't want to be left without a virtual assistant of their own. Of course, with Google Now looking to get a slice of the virtual assistant pie, app developers like Speaktoit have to innovate.
Speaktoit appears to be doing just that. The app, which now has over 5 million users worldwide, added some new features this week that users might enjoy. Perhaps most notably, Speaktoit users can also now take advantage of the Daily Briefing feature. This allows users to customize information they want automatically read to them every morning, such as the weather forecast, their agenda, top news stories, etc. Although users could already have gotten this information on previous Speaktoit versions, the Daily Briefing function helps throw compilations of information into one tidy feature.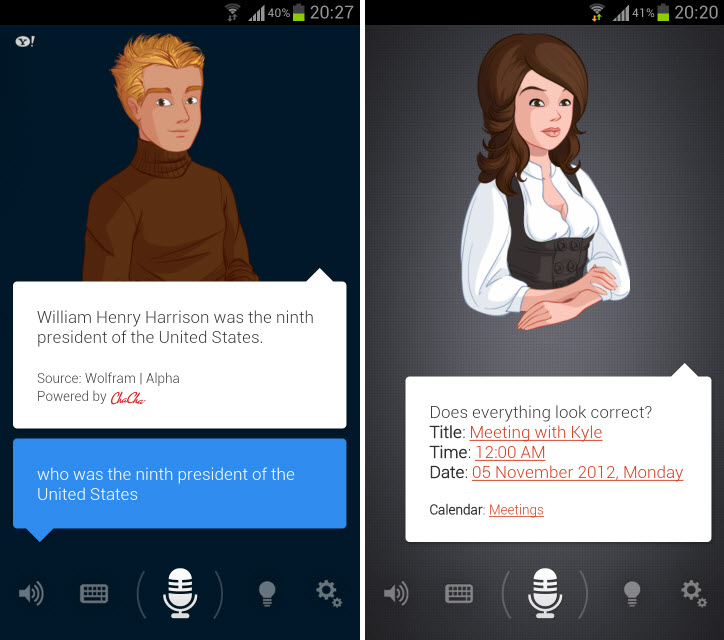 Speaktoit is also now more deeply integrated with Facebook. You can now use your Speaktoit Assistant to get information from your friends. The app will then notify you when one of your Facebook friends has an answer for you, and will read the answer aloud. It's a handy feature, and goes beyond the typical Google search for information that most virtual assistants use.
Speaktoit also announced some additional integration with a number of online services, such as Yelp, Bing Translator, Trip Advisor and Evernote. (For example, asking your Assistant "Yelp Thai food" will return a list of nearby Thai restaurants sorted by their Yelp rating). Again, the key is going beyond using Google for information, especially when other sources will be more helpful. Users also should expect better Bluetooth integration, although some reports indicate there is still room for improvement.
All in all, some solid advancements for the Speaktoit Assistant app. Of course, with competitors like Google Now in the mix, Speaktoit will have to keep up the new features to avoid users jumping ship to other virtual assistants.