Just few hours ago Star News (India) was running a story showing how train-booking agents are utilizing automated software from a company named "SoftValley Travels Pvt. Ltd." to snatch off "Tatkal Quota Bookings" (Urgent Train Ticket Quota in Indian Railways) from common users, today we will be showing you how you can also replicate the exact trick used by that Tatkal Train Ticket Booking Software and get your confirmed tickets the smarter way without paying any extra charges to travel agents or buying that software.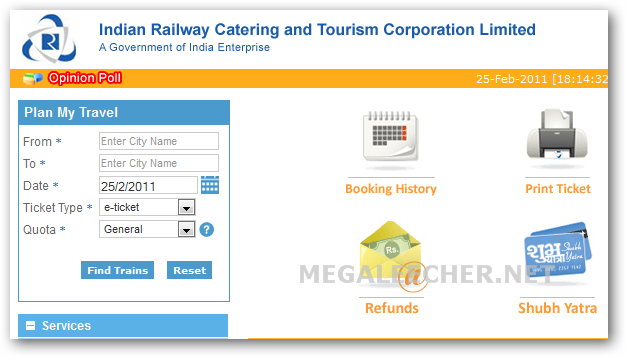 Thanks to the over-crowded trains in India getting a reservation is hard and emergency ticket quota like "Tatkal" gets booked within minutes of opening (Tatkal Booking starts at 8:00 AM two days in advance excluding the day of journey), The trick behind the SOFTVALLY ticket booking software is that it pre-populates and submits all the information required for ticket booking on Irctc website in an automated way while others are still entering there information manually giving software users the time edge needed to book the ticket.
Now, to replicate this all we need to do is to use an auto form filler like LastPass, Roboform or Kaspersky Password Manager to fill-in all the required information and submit as quickly as possible, to pull-in this trick simply install any one of the above automated form-filler (LastPass is my choice) and follow steps below :
If you need to book your ticket the next day, prepare the data today during tatkal booking hours.
Goto irctc.co.in and login to your account, now click "Quick Book" link.

Now fill-in all the data keeping your tatkal booking in mind (the one you want to book the other day when bookings open for train quota you want ticket for) and save the form data in your form filling automation utility (LastPass).

That's it, now when next day tatkal bookings for your train open all you need to do is to visit the irctc.co.in website and use "Quick Book" option (as soon as the irctc website clock located in the top orange bar shows 8:00 AM) and voila the data should be pre-filled in by your form-filler - simply enter the image verification code and submit form.

You can further save time by pre-filling the payment gateway information using the same trick.
Voila, you have a confirmed (most probably) Tatkal ticket while others are still entering there data :).