If Google Chrome is not working as expected or you are having some issues with the browser you can try updating to the latest developmental nightly builds, updating Google Chrome from the Dev channel allows you to get early access to the upcoming features, with up-to-date security and bug fixes.
Chrome Nightly Updater is an nice little handy utility allowing you to check and download latest build of Google Chrome, either as an executable or an Zip file.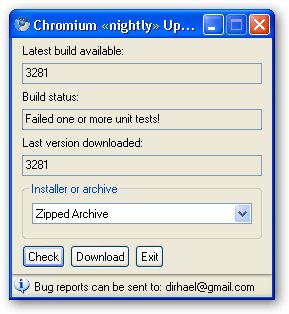 Alternatively, you can also use the official Chrome Channel Chooser utility, allowing you to choose the Dev Channel as Chrome's default update source, once enabled this will make Google Chrome update from the Developmental build channel.
Google Chrome Nightly Updater [Direct Link 208 KB]
Chrome Channel Chooser [Direct Link, 100 KB]